Posted on
Students get financial assistance from Teachers Credit Union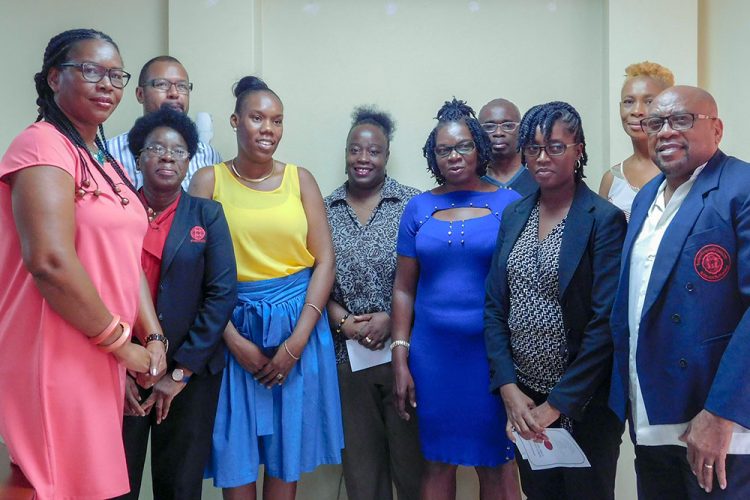 The financial load of 13 students has been made a little lighter, thanks to the generosity of the St Vincent and the Grenadines Teachers' Co-operative Credit Union (SVGTCCU).
The credit union awarded two college scholarships and 11 university bursary awards to students during a ceremony on Tuesday at its offices in Paul's Avenue.
Jasmine Huggins-Daly, the chief executive officer said the credit union has been awarding bursaries and scholarships for over 20 years.
And she said that the institution is dedicated to assisting its members in attaining a quality education and achieving their goals.
"There are many intelligent students and persons in our society who have been denied a sound education due to financial constraints," she said. Obtaining an education can be very expensive, therefore the SVGTCCU has determined that one of its priorities is to provide resources for assistance to members who have the opportunity but not enough financial means."
Huggins-Daly added: "we understand the value of a sound education; after all, our origin is from teachers" and she encouraged recipients to continue in their pursuit to great achievements, higher learning and success.
Jimmie Forde, the president of the credit union reiterated the CEO's sentiments as he said that the SVGTCCU will continue to put emphasis on education.
He added that education was the fastest way to develop a nation.
"I could only encourage you to do your best. You are already successful, but the task is not over. Make the best use of the funds you receive from the credit union. Continue to value your parents advice and tread wisely. We will continue to support the students of St Vincent and the Grenadines in any and everyday we see fit and our resources allow us to do so," Forde said.
Alana Delpesche and Linron John are this year's Community College scholarship awardees.
Delpesche, in brief remarks, thanked the credit union for "believing and having confidence in my academic future as well as recognising my hard work."
The awardee, who is studying Biology, Chemistry and Physics at the Division of Arts, Sciences and General Studies, said she was honoured and thankful for being one of this year's recipients.
She also extended congratulations and best wishes to John, her fellow recipient.
"…this scholarship will come in handy as it serves to aid me in the financial aspects of my education. Moreover it would be a great source of motivation to me to continue to maintain a more than adequate academic performance," Delpesche said.
Noreen Ferguson, one of this year's bursary recipients, also delivered remarks at Tuesday's ceremony.
She extended gratitude to the SVGTCCU for the "well needed monetary award". Ferguson said that the credit union was saving recipients from the financial worries associated with paying school fees for a semester.
"We want to assure you that this money will be put to the best use which is towards our educational advancements. We know that over the years, you have continued to invest in the educational quest of members," she said. "We appreciate the fact and urge you to continue to invest in your members' educational pursuits and the workforce of this nation since true and lasting developments are realised through an educated and well-equipped workforce."
The other bursary recipients are Richard Codougan, Shanelle Caesar-Da Silva, Rafeek Francis, Keleen John, Felicia Smith-Myers, Delvecchio Ollivierre, Zonelle Pope, Kamara Griffith-Primus, Nasya Primus and Zanif Sandy.
The SVGTCCU has invested over $24,000 this year; with each scholarship recipient receiving $1,200 per year over a two-year period and a total of $22,000 for the bursary recipients.