Posted on
NDP celebrates its 43rd anniversary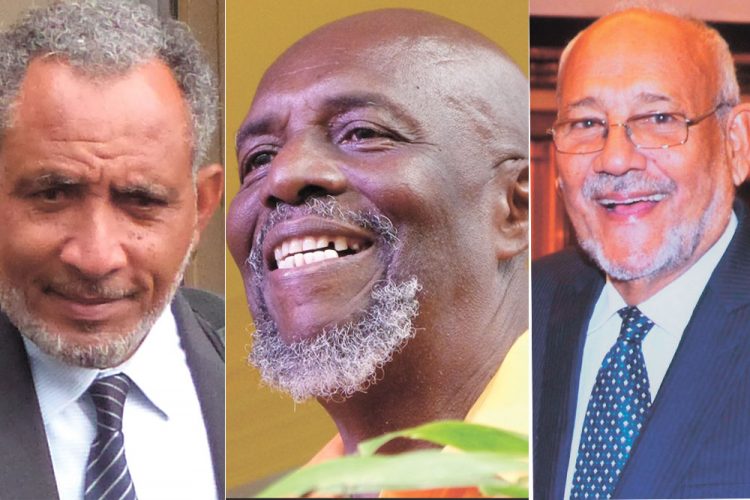 The New Democratic Party (NDP) marked its 43rd year of existence on Wednesday, December 5.
The NDP was founded by Sir James Mitchell on December 5, 1975.
Speaking at Democrat House, the NDP's base at Richmond Hill, Leader of the Opposition Dr Godwin Friday said that notwithstanding the Election Petitions and other issues, Wednesday was a great day for the party.
"We are 43 years old today. We are by far the oldest and greatest political party in St Vincent and the Grenadines," Friday said.
He said that December 5 must be noted as an important day, not just for the history of the party, but in the history of St Vincent and the Grenadines (SVG) "This is because the NDP is not just a political party. It is an important institution in nation-building in our country," Friday told a gathering of reporters.
He said that Vincentians must always remember and appreciate the vision and sacrifice of persons who worked hard to create and build the NDP.
"We continue to hold fast to our vision for our country and as spelled out in the objectives we have espoused and pursued over the years," Friday said while adding that the NDP seeks to raise the standard of living Vincentians through the development of the economic resources of the country in a manner that provides equal opportunity for all.
He said that over the years, members of NDP have worked to ensure the highest standard of rectitude in public life, to guarantee the maximum expression of democratic liberties by all citizens and to lead in the building of a dynamic society.
"The NDP won consecutive general elections in 1984, 1989, 1994, and 1998. In fact, in 1989 we won all 15 seats, the only party that has done so in this country and the only party that can do so in SVG," Friday boasted.
"As the NDP celebrates its 43rd anniversary, we salute our leaders. Founding father, Sir James Mitchell, esteemed immediate past leader, the Hon. Arnhim Eustace and all the men and women who have contributed and are still contributing to the development of the Party and nation. To our members and supporters at home and abroad, we express our sincere gratitude and urge you not to give up or lose hope. Better days are coming", Friday commented.