Posted on
Man loses everything in raging inferno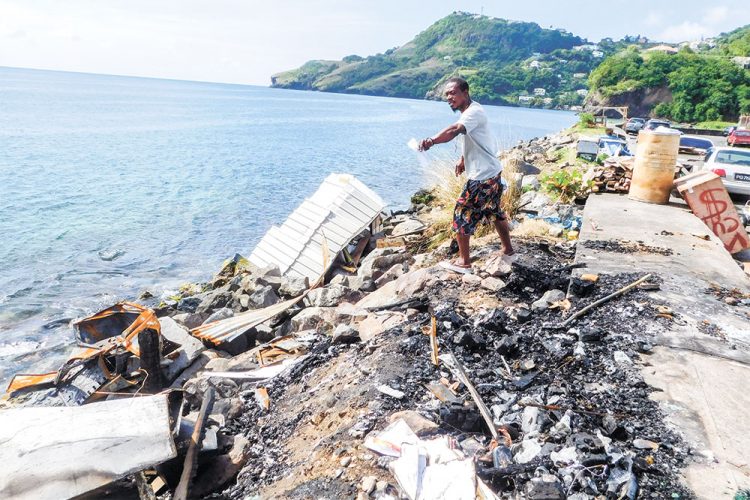 Leei 'Dutty Cup' Wilkins says he will try to build back his life after his belongings were consumed by fire last week Thursday.
Wilkins, who lived and did business in a board and galvanize structure in the area of the bay front road on the reclamation, Kingstown, was in police custody the night that his abode was flattened.
According to Wilkins, due to a minor disagreement between him and another man, police had picked him up and kept him until morning. He lamented, when he visited SEARCHLIGHT on Tuesday, that if he had not been in police custody at the time, then the individual would not have got through to burning the structure down.
He said that a friend had told him about the structure being burnt down, and that he cried when he realized.
"Me haffu go beg people for something for eat and me ain supposed fuh do dat. I feel so shame," Wilkins said.
Wilkins made a report to the police, who confirmed that Wilkins visited the Central Police Station this Monday. They are investigating the matter, wherein the 15×20 structure was burnt down.
Wilkins said in the blaze he lost 54 items, including a rechargeable solar system, pots, a pillow, a mattress, a fridge, a stove, a number of shoes, his birth certificate, identification card, cases of drinks and cigarettes.
Wilkins says that he washes and dries cars and sells drinks, among other things, and that his customers are very upset at what happened. He is requesting that his customers could brings some clothes for him "or something."
Although he believes he knows who burnt down the structure, he noted, "I ain dey pon no war and violence I just going build again."
"I living good. I was looking, I was looking too presentable so they didn't like it much too," he further commented.
Wilkins took SEARCHLIGHT to the ashes of his structure beside the sea near the Leeward bus terminal, and showed the remnants of pots and others fragments left behind, strewn across the rocks. He also drew attention to some withering plants kept in cut bottles, and some chive growing in a tyre, some of the few items left behind.