Posted on
Amazon banned children's book hits local market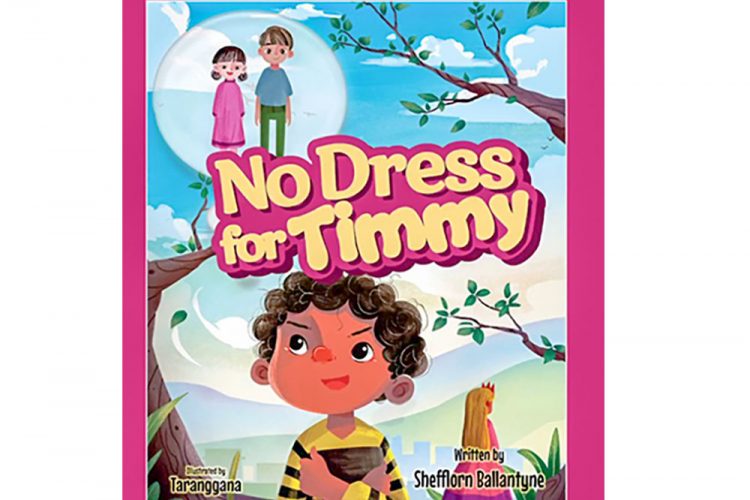 'No dress for Timmy', by Vincentian author Shefflorn Ballantyne, is now available for sale locally.
Five months ago, in July, the children's book was banned from the Amazon platform within hours after an announcement for its online launch.
The decision by Amazon was driven by LGBT advocates. After the ban, an LGBTQ online advocacy group 'Family Rhetoric' claimed victory for having it banned. This group is on record calling for its followers to "Tell Amazon that you don't want this book available to anyone…" Amazon's justification for its decision was "we found that the subject matter of your book is in violation of our content guidelines…As a result, we cannot offer this book for sale."
A release from the author said " 'No dress for Timmy' is an exciting story of a little boy who found himself in a perplexing situation where he was forced to choose between speaking the truth and cheering on a friend who thinks of himself as a girl. The 34- page hardcover book is beautifully illustrated, showing how timidity changes to courage as Timmy takes a stance for the truth and pays dearly for it. The book introduces Christian principles to preserve all children – here and across the globe. It is perfect for children 4 – 9 years old, though any age will enjoy the story."
The author says that the book is a "must have" and encourages parents to get a copy.
"Your child will learn that speaking the truth is kindness and the friendliest thing to do even if he or she is persecuted for it. This is a real measure of strength for boys and girls when they are not in your immediate presence. Every child should get one," he says.
The fully illustrated children book was soft-launched at the UWI's Literary Fair on October 8 this year.
Shefflorn is also the author of 'Immortality, Death and the Hereafter' as well as 'Surviving Grief and Loss'. He is an elder of the Thusia SDA Church and began his book writing career three years ago. The college educator hopes to continue to unapologetically defend Christian values on various topical issues.
Shefflon thanks all who have supported his work and looks forward to serving all in sacrificial Christian service.
For copies of his book, please contact him at (784) 528 – 2123 or email: shefflorn@gmail.com.