Posted on
Tropical Shipping offers support to World Pediatric Project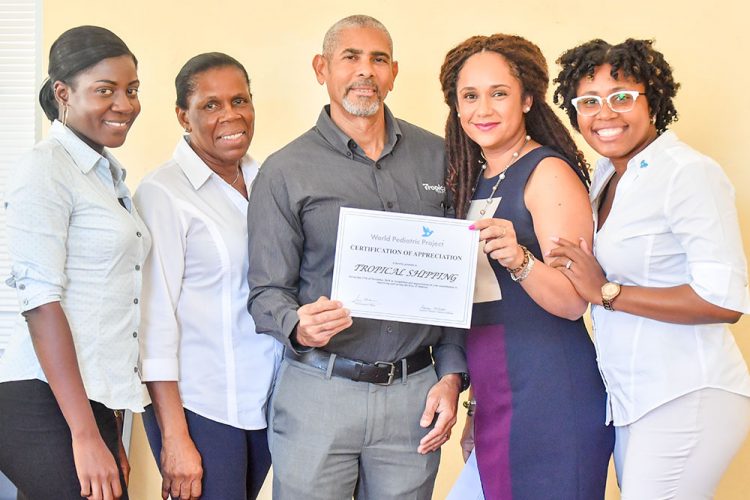 The World Pediatric Project (WPP) is working hard to achieve its goal to have all children in St Vincent and the Grenadines (SVG) and the Eastern Caribbean have access to proper critical and technical health care thus expanding their possibilities and securing a bright future. This ambitious goal is no easy challenge but with continued support from families, the public and private sector this dream can be made into a reality.
On November 27, Cedric McIntyre, Island Manager – Tropical Shipping presented a cheque to Lauren McIntosh – Executive Director of World Pediatric Project in a brief handing over presentation, which took place at the office of World Pediatric Project.
McIntyre stated that it was a privilege to be able to make a meaningful contribution to the World Pediatric Project to assist with the December medical mission and their community clinic – assessing the needs for pediatric, surgical and or other diagnostics health care services for the needy children of SVG.
McIntyre further expressed that the donation falls under the company's corporate social responsibility and improving the quality of life of children in SVG which is one of their initiatives.
McIntosh, who continues to express humility and gratitude for all forms of contributions and support stated that the contribution will definitely help the WPP in defraying some of the cost faced in affording our children and by extension the communities in SVG critical health care that they need. McIntosh said she really is happy for the contribution and handed over a certificate of appreciation to McIntyre.
Sister Jackie Brown King, the Eastern Caribbean Director for programs said the Scoliosis Mission, which is the largest financial mission for the year, was recently completed. Brown-King said to date the WPP completed 73 spinal fusion surgeries which is no easy task. She said as they continue to forge forward they need partnership such as the one McIntyre has provided. She further encourage persons to follow in the same vein following the Ministry of Health's motto: "Our Health is a Shared Responsibility"  
Tropical Shipping has been serving SVG and the Caribbean for over 50 years.