Posted on
SVG and Ghana sign Bilateral Agreements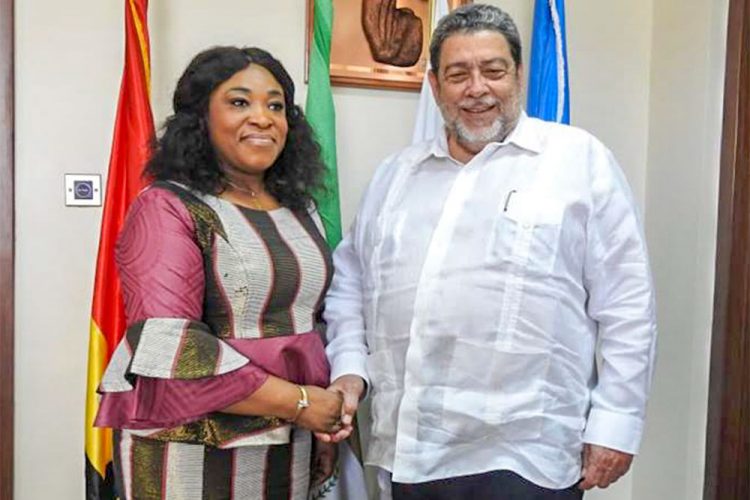 St Vincent and the Grenadines (SVG) and Ghana signed two important bilateral agreements last week at the Ministry of Foreign Affairs in Ghana.
The first is a General Co-operation Agreement between the Government of the Republic of Ghana and the Government of SVG and the second, a Memorandum of Understanding between the Government of Ghana and the Government of SVG on Visa Waiver.
The agreements were signed by the Prime Minister of SVG Dr Ralph Gonsalves and Minister of Foreign Affairs, Ghana, Shirley Ayorkor Botchway.
Botchway called Gonsalves the Champion of the Africa-Caribbean co-operation initiative. She said Africa and Caribbean countries do not have the strong bonds that should exist given "we are one and the same people". She said the signing of the agreements is a step which would usher both countries into a new era of a relationship which will be beneficial to both countries.
Meanwhile Gonsalves advocated for the formation of an African-Brazil-Caribbean Commission to enhance trade and economic cooperation, marine and air transport co-operation among others.
He said Ghananian President Nana Addo Dankwa Akufo-Addo has suggested that the Diaspora be added making it the ABCD Commission, a group which covers at least 1.7 billion people.
Prime Minister Gonsalves said the cooperation agreement is a very important one and Ghana a very important staging post for future development and cooperation.
The General Co-operation Agreement covers areas including Agriculture, Education, Culture, ICT and Human Resource expertise.
Ghanaians, before the visa waiver agreement, did not require a Visa for travel to St Vincent and the Grenadines, howeverthere was a visa requirement for citizens of St Vincent and the Grenadines to travel to Ghana.