Posted on
Stubbs Government retains KCCU primary schools' Quiz title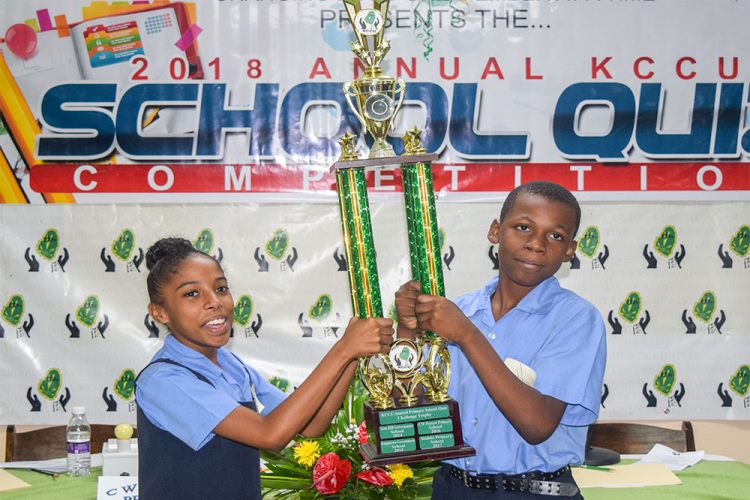 Desvorne John and Kate–Lynn Bobb helped the Stubbs Primary School retain the title of champions of the annual Kingstown Co-operative Credit Union's primary schools' quiz.
Held last Saturday at the Rueben John Development Centre, located on the ground floor of the KCCU's main building on Granby Street, John and Bobb compiled 34 points, to best the five other finalists.
This meant the Stubbs Primary School held on the Thomas Saunders Challenge trophy for the second year, the first place trophy, and again earned $2000, which will go to a project of the school's choice.
John and Bobb received a trophy each, along with cash awards of $250 per person, and a Kindle fire each.
Gleeful about retaining the title was the school's principal Andrew John, who said it was a good send-off gift for he is into his last year as head of the institution.
John said he has had a personal interest in the quiz, and was one of the resource persons who have been preparing the students over the years.
Taking second place was the CW Prescod Primary School duo of Rayanne Pierre and Alando Bobb, with 24 points. They each pocketed $200 plus a trophy each.
Completing the top three places was the Lauders Primary, represented by Javid Clarke and Dvonte Da Breo. Lauders Primary tallied 21 points. Trophies were presented to Clarke and Da Breo, along with $150 each.
The others in the final were Taj Cain and Seante Marshall of the Kingstown Preparatory School; Joshua Prescott and Akeem Gaymes of the Belair Government, and Phena Bowens and Amanda Henry of the Clare Valley Government, who got medals and $100 each.
All participants were given gift bags, compliments the KCCU.
Last Saturday's finalists emerged from the preliminary round, which took place on Saturday, November 17 at the St Vincent Grammar School.
The categories tested in the quiz were general knowledge, local and regional history, credit union affairs, sports and spelling.
The quiz final included a multiple choice category which carried two points per correct answer; three points for the close ended questions, with four points for the spelling bee and five points for the buzzer round, which was applied only at last Saturday's final.