Posted on
Seventh edition of Steel Expressions will be taken to another level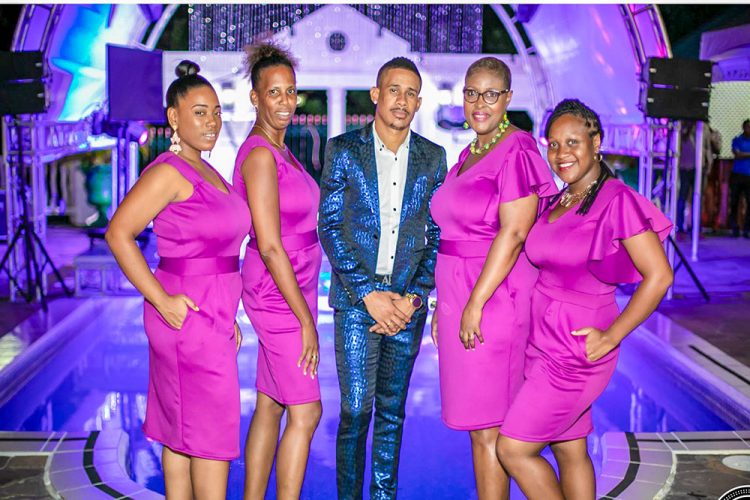 For the past six years, patrons of pannist Rodney Small's Steel Expressions show have enjoyed quality entertainment from emerging Vincentian youths and other guest artistes.
"This year the trend continues and promises to take it to another level as RS Productions presents Steel Expressions-Epiphany on the 29th of December 2018 at the Arnos Vale Playing Field at 7:30 p.m.," Small said at the event's launch on Tuesday night.
Speaking at the Grenadine House where the launch was held, Small said that the seventh year of production has seen him and his production team lift the bar even higher to ensure patrons enjoy the highest quality of entertainment they are known to offer.
Steel Expressions Epiphany is a three-hour event which Small says will cater to the needs of each patron "by providing them with an opportunity to reflect on their own epiphany and not be afraid to celebrate their success."
The 2018 cast is led by Small, the executive producer and artistic director; acclaimed pianist Sean Sutherland; and singers Sarah Mark, Krys Mark, Kiokya Cruickshank and Hance John.
Performances will also come from featured youth ambassadors, singer Nailah Samuel and pannist Kasim Clasp. The highlight of the night is expected to be Trinidadian born calypsonian Sugar Aloes. The Vykinz Band and Friends will provide musical accompaniment for all performers.
"There will also be some surprise appearances during my presentation, which I wish not to reveal tonight," Small stated.
He added, "this year we are taking a modernized approach to our production where we are going to incorporate a lot of technology and focus a lot more on delivery. A lot of multimedia work will be displayed as we show the evolution of productions across the globe," explained Small who noted that his motto has always been "once you can think it you can do it."
Once again, this year, some of the proceeds from Steel Expressions will go to the St Vincent Medical Association to assist in the fight against childhood cancer.
Other organizations which have benefited in the past are SCORCH and The School for Children with Special Needs. Once, some of the proceeds were used to host a seminar dubbed "Arts Alive" for students interested in the creative arts.
Admission to Steel Expressions is $50 for adults and $20 for children. There is a VIP area that will cost $150 (food Inclusive). Ticket Outlets are Coreas City Store and Chill Spot at Arnos Vale.
"Two of our major objectives of this show are to make donations to charity and to nurture and create an avenue for upcoming performers. We see this programme as impacting positively to help our youths channel their energies into developing themselves, their families, their communities and our nation," Small commented.
Sponsors of the event include the SVG Tourism Authority, Guardsman, ANN News, Shop for Less, Mariners Hotel and French Verandah, FLOW SVG, René Baptiste Chambers, Coreas Distribution, Coreas Pharmacy, Johnny Walker Black, CDC, VC3, Grenadine House, National Lotteries Authority, STV ONLINE, KPMG, Searchlight Newspaper, STAR Fm, Boom Fm, Xtreme Radio, NBC RADIO, Junior Lee from Precise Lee productions, POSSE RUM PUNCH/ POSSE NUTS, Exquisite Events, Hairoun Brewery and Role Model Fruits.
The persons behind Small helping to promote the event are: Jean Johnney-Findlay, Lyndon "Pablo" Lewis, Akisha Henry, Dennika Peters, Cenica Patterson and Omari France.