Posted on
UK Export Finance offering credit guarantees and financing for Caribbean businesses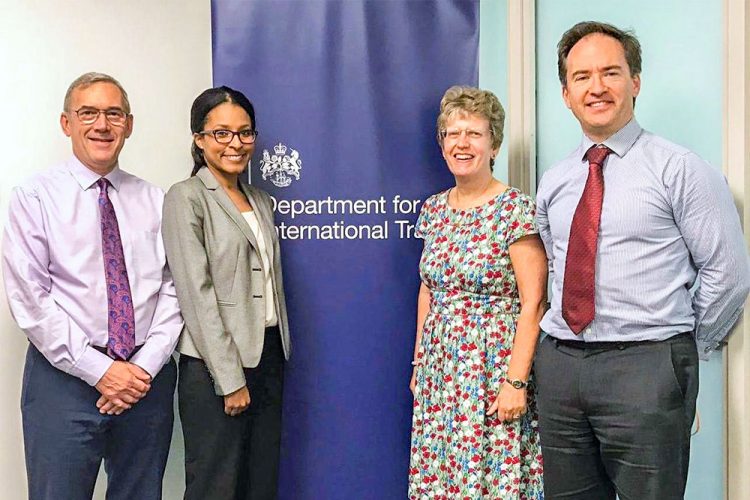 Officials from the UK's export credit guarantee agency, UK Export Finance (UKEF), are on a tour through several Independent Caribbean countries to promote their attractive credit guarantee and direct-lending products to commercial entities in need of financing.
During the visit, the team led by Sam Hoexter, Regional Director to Sub-Saharan Africa, Latin America and India; visited Barbados, St Lucia, Trinidad, Guyana, Jamaica and met key stakeholders from both the public and private sectors.
UKEF offer helps to promote and build business links by enabling local commercial buyers in need of a particular good or service to pay a supplier upfront, but repay the credit amount over a prolonged period and at reduced interest rates.
Upon meeting the team, British High Commissioner to Barbados and the Eastern Caribbean, Janet Douglas, said: "I am very pleased to be able to welcome UKEF to the Caribbean, and to help ensure that the region is aware of the services they can provide. UKEF finance can prove invaluable in stimulating and increasing trade and trade links, especially for small and medium enterprises that might otherwise struggle to access finance at affordable rates."
The Department for International Trade (DIT) is the trade promotion arm of the British Government that secures UK and global prosperity by promoting and financing international trade and investment, and championing free trade.
Under a buyer credit facility, UKEF provides a guarantee to a bank enabling the bank to provide competitive finance with the only caveat being that at least 20 percent of the contract value be sourced from a UK supplier.
More information about the UKEF offering in Barbados and the Eastern Caribbean can be obtained by contacting commercial.bridgetown@gov.uk