Posted on
PM in Ghana on official state visit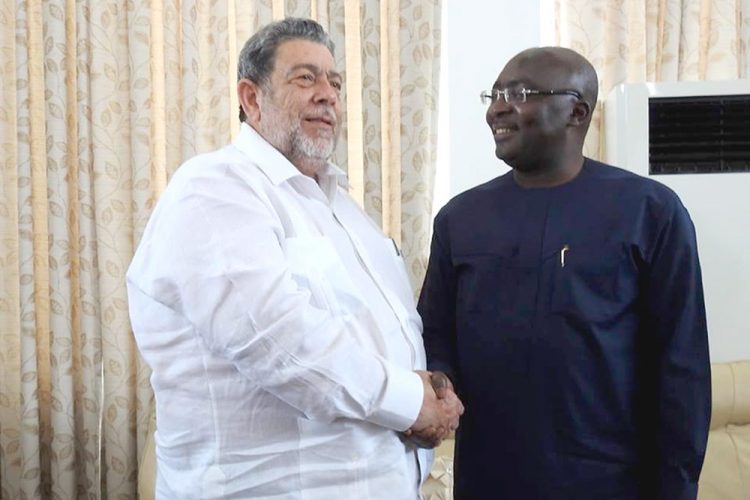 ACCRA, GHANA. November 26, 2018: Prime Minister of St Vincent and the Grenadines Dr Ralph Gonsalves arrived in the Republic of Ghana yesterday, November 26 for an official state visit.
The Prime Minister heads a delegation which includes the High Commissioner to London Cenio Lewis and Ambassador to the Republic of Cuba Ellsworth John. The Prime Minister is also accompanied by wife Eloise Gonsalves and security officer Adrian Francois.
Prime Minister Gonsalves was received at the airport by a Ghanian Delegation headed by Vice President Mahamudu Bawumia, and representatives from the Ghanian Embassy in Cuba.
While in Ghana, Prime Minister Gonsalves will meet with President of the Republic of Ghana Nana Akufo-Addo. Prime Minister Gonsalves will also visit the Council for Scientific and Industrial Research in Accra, Ghana and will meet with researchers at the Cocoa Research Institute in Bonsu.
On Thursday November 29, Prime Minister Gonsalves will deliver a lecture at the University of Ghana, titled "Rebuilding the African-Brazil-Caribbean Movement for Trade, Cultural and Diplomatic Enhancement". The event is hosted by the Institute for African Studies and will be open to the public.
While in Ghana, Prime Minister Gonsalves hopes to strengthen the relationship between both countries; form cultural linkages; look at avenues for tourism and investment promotion and
help St Vincent and the Grenadines enhance its cocoa production and research.