Posted on
Flow promises an 'Extra Big' Christmas for 2018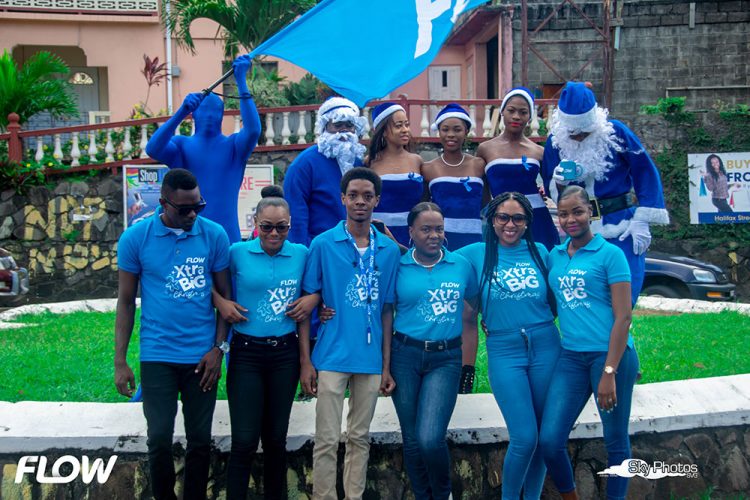 TELECOMMUNICATIONS giant Flow promises its many customers an 'Extra Big' Christmas for 2018.
This comes as the Flow team on Friday November 16 embarked on its launching activities which commenced early Friday morning as the Flow Santas greeted motorists at the Arnos Vale roundabout and at Gibson corner with Flow branded mugs equipped with hot chocolate mixes.
Boasting its abilities for continued innovation and creativity, Flow continued its 2018 Extra Big Christmas promotion with a motorcade starting from Arnos Vale into capital Kingstown. The procession which sought to bring about a uniquely Vincentian culture, saw the participation of minivans from varying communities across the country, bikers and cars boasting huge sound system from the SVG Motor Sports Club, all of which paraded through Kingstown, offering Christmas cheer and scores of giveaway items to many onlookers.
As part of the company's extra big Christmas activities, the team is promising its many customers extra big deals and savings. Customers have the opportunity to sign up for a Large postpaid combo plan, where they will be able to take advantage of 15Gbs of data, unlimited Flow to Flow calls, home rate roaming plus a Samsung Galaxy J4 handset at $399, for existing postpaid customers who wants to upgrade their handset for the festive season, they can get 50% when they do so.
Prepaid customers are also in for a treat when they activate an XL prepaid combo plan. They will be able to get an Alcatel A1, plus 3 gbs of data, a free pop socket plus unlimited anywhere talk at only $199, and a Samsung J2 at $299 with an XL prepaid combo plan, free gifts and more.
This Christmas, the Flow team is urging customers to save more by bundling their broadband and TV services. This Christmas, customers can enjoy every moment when you sign up for a TV Plus package. They will be able to enjoy two months free, plus an opportunity to win a free ham or turkey every day.