Posted on
Cash Money Auto provides a second location for its customers to shop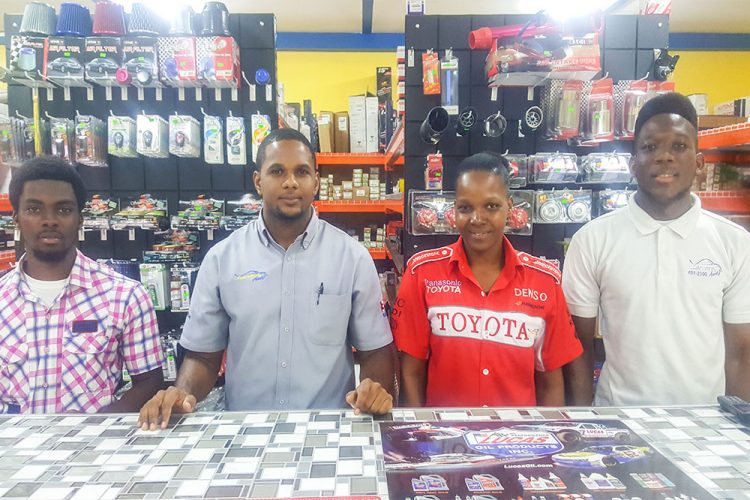 Cash Money Auto, one of the top car parts and accessories businesses in the country, has opened a second branch.
The new branch is located at Lower Bay Street opposite the entrance of the Leeward Bus Terminal. It opened its doors on September 15 and is being managed by Xavier Bailey and staffed by three other employees.
On Monday, Bailey said they sell parts for almost all Japanese manufactured vehicles and their service is second to none; they currently are the only vehicle parts retailer that offers free delivery to clients.
"Our second location (first in Sion Hill Bay) was requested by our customers so that we can be more accessible to persons who may not have the use of a vehicle while their vehicle is being fixed.
"Persons often complained that they had to catch a taxi to go to Sion Hill Bay so with this second location we are trying to be more accessible," explained Bailey.
He said the company also recently launched the free delivery service which allows members of the public to order parts over the phone or pay for them in store and have them delivered to locations between Campden Park and Calliaqua.
"For free delivery call 451-2200 and that part can be delivered straight to your business place or work place as we realize time is very vital to everyone," Bailey stated.
He also revealed that apart from providing great customer service and guaranteed lowest prices anywhere, Cash Money Auto prides itself on being innovative.
"We try our best to please. We always work towards that and everybody enjoys doing their job and we go out our way to help," said Bailey.
He said that Cash Money Auto does not just provide parts, but they give advice to people and explain things.
"We go the extra mile," said Bailey of the business that also sells wheel barrows, compressors and SYM scooters.
"We just launched our scooters. They are a very good mode of transportation that can help persons beat the traffic and parking issues in Kingstown," said Bailey, adding that the scooters are very affordable and cost effective.
"It is really an inexpensive way for transport. Easy to escape traffic, convenient," stressed Bailey.
Cash Money Auto (both locations) opens Monday to Friday 8:30 a.m. to 5 p.m; and on Saturdays, the Sion Hill Bay location opens at 8:30 a.m. and closes at 1 p.m. while the Kingstown location closes at 2 p.m.