Posted on
Former BCK student wins SSBQ Distinguished Graduate Award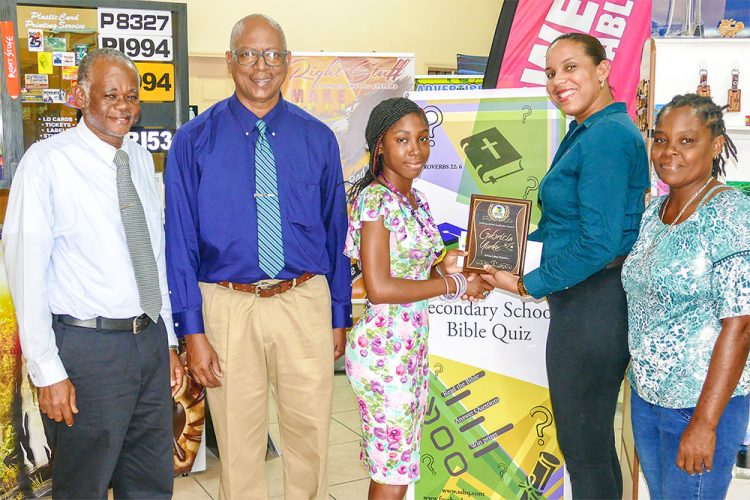 A former student of the Bishop's College Kingstown walked away with the prize for the Secondary School Bible Quiz (SSBQ) Distinguished Graduate Award – 2018 at Right Stuff Ltd, Rose Place, on November 21.
Gabricia Yorke, who had 17 entries in the Quiz, has a total of nine CSEC subjects in two sittings and was a two-time winner of the monthly quiz (February 2015 and February 2016) became the seventh recipient of the award. Akeila Crichton, Operations Manager of Right Stuff on presenting the prize – $1000 and a plaque compliments Jehann Jack and Right Stuff respectively, congratulated Gabricia on her achievement.
During his introductory remarks Joel Jack, Organizer of the Quiz indicated that since the inception of that award, it was won by past students of the Girls' High School and St Vincent Grammar School on two occasions and once by students of the West St George Secondary the Thomas Saunders Secondary and now Bishops College.
He took the opportunity to express appreciation to the regular benefactors of the Quiz including Acute Cosmetics, Searchlight, WEFM, Jujube as well as other friends and family.
At the brief ceremony which was also attended by Gabricia's mom, Edley Dunbar of Scriptural Search and Jamali Jack the ssbq.org website administrator; a promotion to mark the eleventh anniversary of the SSBQ was launched. All past winners of the monthly Quiz were invited to participate by indicating on the Secondary School Bible Quiz – Facebook page what was their winning; a draw will be made and someone will receive a gift for the New Year.
The SSBQ is an initiative to promote Bible reading and understanding among secondary school students. www.ssbq.org.