Posted on
Artists take audience on journey of the soul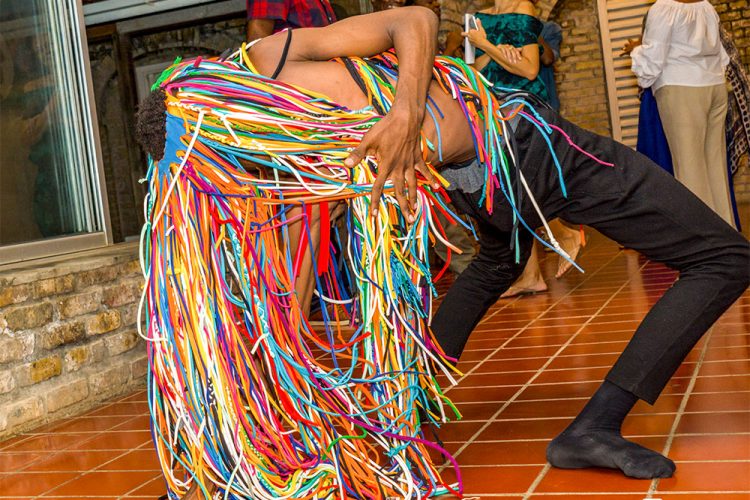 by Ena Richardson
caroline 'booops' sardine and Jeremy Payne have again wowed an audience of over a hundred art aficionados, who filtered through the expertly curated space at the Grand View Hotel last Saturday evening. The duo teamed up for their second joint show – 'riiite siiide uppp', a one night only opening.
Payne presented Rituals: These Glorious Things, a trio soft sculptures donned by dancers from the Arabesque Dance Company. His collection of emotional vessels journeyed through the space, writhing and rolling gracefully and deliberately, enveloped by their colourful veils of tubular layers shielding those within from those without. It was a social experiment by the artist who feels it a modern luxury to immerse yourself in your feelings, dangerous at times but more necessary than ever. It is a ritual which needs to be practiced, a sacred routine of self love.
"booops" exhibited a collection of paintings, sculptures and assemblages which spanned two decades. It was fascinating to see her work evolve over time and how the sensitivity to her environment influences both palette and subject. The majority of the pieces were recent works and together they created a narrative for her journey through the last twenty years. Follow the three striped ankle.
Bridging the galleries was 'salteee cake', a patchwork piece of roughly sewn army tent fragments, painted and adorned with trinkets from her mind's menagerie, an unfinished work. She included it to emphasize the never ending story. When is a piece finished? Is a piece ever finished? A soul's journey has no end.
The artists would like to express their gratitude to their sponsors and supporters: Gonsalves Liquors Ltd, B.M.C. Agencies Ltd, Platinum Sounds, Arabesque Dance Company, Nadia Huggins, Ellsworth Dacon, All photographers and videographers who attended, The Grand View Hotel.