Posted on
Petit Bordel student group proposes app to help disabled persons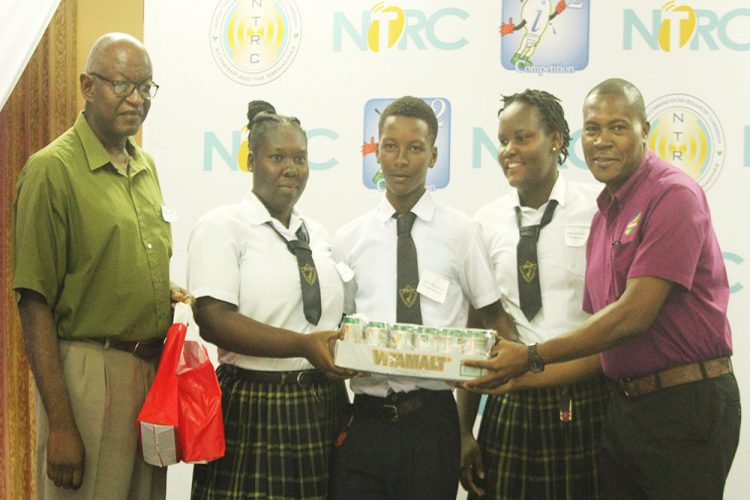 THE SHOOTING AND PARALYSIS OF CHATEAUBELAIR resident Sweet-I Robertson was the impetus for the winning idea in a 2018 secondary schools mobile application ideas competition.
The idea for a mobile application to assist disabled persons was revealed last Wednesday at the finals of this year's secondary schools' idea category of the National Telecommunications Regulatory Commission's (NTRC) Ideas and Innovation/i2 competition.
Sweet-I was paralyzed in 2009 from the waist down due to a gunshot injury, and last Wednesday at the Methodist Church Hall in Kingstown, her sister Racheal Robertson, nephew Leon-J Robertson and Kazel Ellis, classmates at the Petit Bordel Secondary School (PBSS) presented a mobile application idea designed to assist disabled persons in moving about more freely.
Racheal, a member of the group "Young Inventors" said she got the idea after observing the problems her sister has in getting around, including when she travels.
She expressed pleasure at winning as a lot of hard work had gone into the idea and it paid off.
Racheal noted that the app, if developed, will not only be for Vincentians but also for persons overseas who want to visit the country.
If brought to life, the app will provide information for disabled persons, their family members or caregivers about taxis, buildings, hotels and other facilities and services that cater for the disabled.
The app will use pictures taken directly from the places so that what is available can be shown. The students were assisted in developing the idea by their Information and Communications Technology (ICT) teacher Stanley Joslyn.
In second place in the secondary schools' mobile application idea category was the group "PBSS Inventors". They presented an idea for an app that will point persons to various activities taking place in an area, the availability of restaurants and entertainment while allowing one to access events through online booking and also paying for food and other services online. The group members are Nyron Collis and Phyziah Craigg.
In third place were North Union Secondary School (NUSS) students Moriah Williams and Tyra Collins. They call themselves "NUSS Conquerors 2".
Their idea is to create a pressure plate security system. What the system will do is have sensors under tiles that are strategically placed in certain positions around the home, entrances, exits and at windows.
When a burglar steps on these tiles, a signal will be triggered that will be sent to an app on the resident's your phone. Pressure on the sensors will also trigger an alarm, bright light or a speech recording as well as a call to the police.
The other participants in this category were UISS Geo from the Union Island Secondary School (UISS) made up of Joya Regis, Joshua Jones and Alex Smith; ZIP from the Girls' High School (GHS) made up of Trudi Quashie and Zerese Williams; Macro Optimists from the Troumaca Ontario Secondary School (TOSS) with Gavancia Francois, Alanique Patterson, Dorscia Simon and Andrea Delpesche; Convalis from the St Vincent Grammar School (SVGS) made up of Stanislaus Gomes, Isaac Cepeda and Machado Joseph, and Tekni Constructors from the TOSS with Percival Jocelyn, Tejada Delpesche, Kamari Thompson and Jerolyn Edwards.