Posted on
Indian Diaspora Council honours Vincentian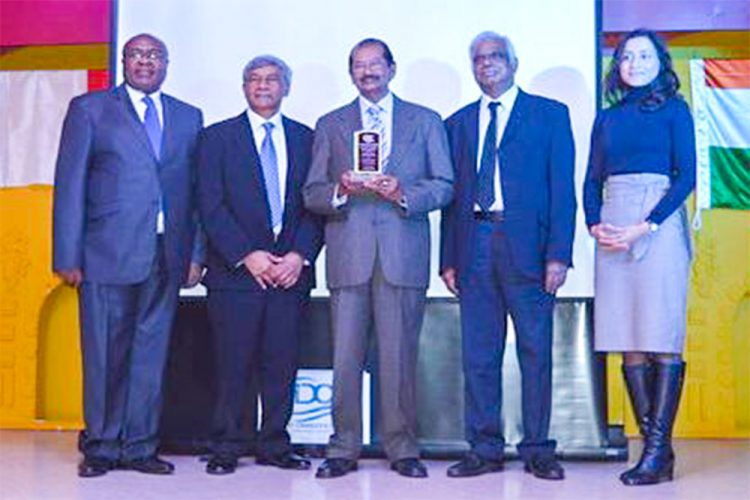 The Indian Diaspora Council International (IDC) recognized Murray Bullock of St Vincent and the Grenadines (SVG) for his outstanding community service with a special commendation at a forum held on November 10 in Paris, France.
The event was the Forum on Descendants of Indian Indentured Labourers – Issues & Opportunities" held at Cité Internationale Universitaire de Paris (University of Paris), Maison de L'Inde (India House).
Dr Arnold Thomas who is the President of Indian Diaspora Council International (IDC) of SVG, accepted the recognition plaque on behalf of Bullock who was on official business elsewhere.
Bullock is a business entrepreneur and the Chairman of the National Lotteries Authority. Bullock, originally from the area of Calder, lived in Yambou in the interior section of mainland St Vincent. He is a man of action rather than words, and made his feeling known when contacted. "I don't like to talk about myself," Bullock confided.
Bullock's work with the Board of Trustees at the Emmanuel High School Incorporated has been documented. He served as Chairman of the National Development Foundation for over 15 years.
The IDC recognition reflects the many years of community service to those in SVG, dedication and commitment to the issues of overseas Indian community and his continuing efforts to promote and preserve the values and rich tradition of Indian culture and heritage. IDC also acknowledged Bullock's many years in support of the community in public and social service, as well as his exemplary achievements in business and community service.
"This is a well-deserved recognition of Mr Murray Bullock for his continuing support of community activities in St Vincent and the Grenadines as well as promotion and preservation of cultural heritage, and I am honored to receive it on his behalf", said Thomas on accepting the recognition plaque for Bullock.