Posted on
Faith leaders call for abandonment of sodomy laws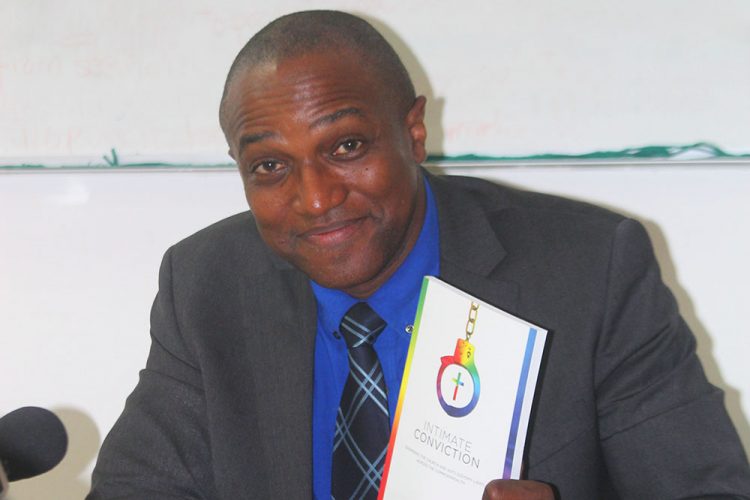 Intimate Conviction, a book which speaks about the commitment of several global faith leaders to have governments abandon sodomy laws, has been launched here.
The book was launched at the Marion House conference room last Friday November 16.
Presentations were made by Senior Policy Analyst, Canadian HIV/AIDS Legal Framework Maurice Tomlinson and Reverend Tom Decker, an Anglican military chaplain from the Canadian Armed Forces.
According to Tomlinson, the book came out of the 2017 "Intimate Conviction" conference which was a two-day event held in Jamaica to examine the church and anti-sodomy laws across the Commonwealth.
The keynote address at the conference was delivered by Barbadian the Most Reverend John Holder, Anglican Archbishop of the West Indies.
In his address, Archbishop Holder said that as soon as homosexuality is mentioned, people use the story of Sodom and Gomorrah to find support for the retention of sodomy laws.
"This use of this story is fraught with the danger of imposing our convictions and our bigotry about this practice onto the story," said Archbishop Holder who added that the misuse of the story is built on "awful exegesis".
"Indeed, the word sodomy as a designation for homosexuality rejects a sensible understanding of the story based on sound scholarship…and is being used to make theological points, not historical or biological ones. It is not making points about sexual orientation," stated the Archbishop.
He further stated in his address that the story of Sodom and Gomorrah is being incorrectly used to portray homosexuality as wrong and we are now inclined to accept the argument of D.S. Bailey who informs us that the homosexual conception of this sin (Sodom and Gomorrah) first appeared in the second century BC among Palestinian rigorists and patriots and seems to be inspired by hatred of the Greek way of life.
The book (Intimate Conviction) is free and Tomlinson said people may write to [email protected] to have a free copy mailed to them.
Tomlinson, a devout Anglican, also noted that after December 10, Intimate Conviction will be free online, "because we want people to know that there isn't a unified position condemning the LGBTQ people from the Christians."
LGBTQ stands for lesbian, gay, bisexual, transgender and queer.
Today, many churches, accept LGBTQ lifestyle and in 2013, Pope Francis told reporters, "If someone is gay and is looking for the Lord, who am I to judge him? You should not discriminate against or marginalise these people."
Back in August, Anglican Bishop of the Windward Islands, the Right Reverend Leopold Friday, in a conversation with SEARCHLIGHT, said the church rejects homosexual practice as incompatible with scripture, but calls on all Anglicans to minister pastorally and sensitively to all, irrespective of sexual orientation and to condemn irrational fear of homosexuals.
"You should not use violence against them to try to hurt them in anyway," Bishop Friday, head of the Christian Council here said.
Last Friday's event was attended by among others, New Democratic Party (NDP) senator Shirlan "Zita" Barnwell and Sean Frederick of Vincy Chap, a local human rights group.