Posted on
32 BARTEC students complete CED programme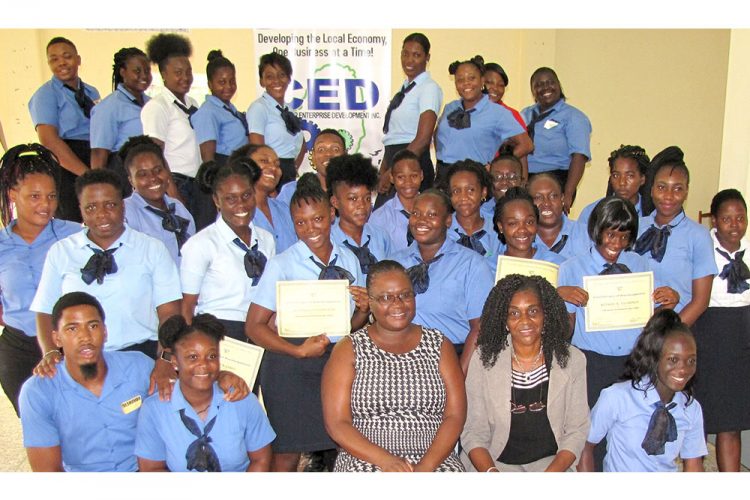 Another batch of students at the Barrouallie Technical Institute (BARTEC) has successfully completed the Youth Business and Entrepreneurial Training (YOUBET) offered by the Centre for Enterprise Development Incorporated (CED) as part of its youth empowerment programme.
The November 12-15 YOUBET seminar exposed 32 BARTEC students to entrepreneurial and business education as a means of encouraging them to seek alternative avenues for employment creation and income generation.  
Speaking at the closing of the training, participant Vledrian Layne reflected on what he described as an "educational and interesting" seminar.
"The things from the workshop that would stick with me was the SWOT analysis and how it can be applied to your personal life situation," he stated. "I also appreciated the information on marketing research and the importance of having to research a market before you go into a particular type of business. I also appreciated the idea of the business plan – of how one goes about approaching the bank to get a loan."
Another participant, Shermin King said the YOUBET seminar has left her "fired up".
"I am very grateful because I've changed my thinking and I've changed my beliefs. I have changed my expectations. I have changed my performance and now I think I have changed my life!"
The YOUBET seminar was presented by Business Consultant Marlyn Richards, who said she expects to see some budding business people emerging from among participants.
CED Training Coordinator Keisha Phillips, in her closing remarks, expressed satisfaction with the level of participation.
"We at CED are always happy when BARTEC calls on us to do something. It is my hope that everything we did here this week would not be in vain; and I hope that soon we can see some fruits being borne on this tree that we've just planted. Don't leave the tree to die. Water it."
Phillips also urged the students to continue to develop their knowledge about business and entrepreneurship.
"The Internet is there loaded with a wealth of information. What we presented to you here, you can find additional information on some of these topics. Use your time online wisely to develop your knowledge and your skills if you are serious about entrepreneurship."
During the YOUBET seminar the participants covered topics such as the entrepreneur, identifying business ideas, marketing, record keeping, costing and pricing and developing a business plan. Participants were divided into five groups that conceptualized business ideas which they presented on the final day of training.
In November 2017, 43 students of BARTEC participated in the CED youth programme and several of them continue to receive business counselling from CED's technical team to develop their ideas into viable businesses.
The YOUBET programme targets unemployed youth; youth who own businesses or who may wish to start businesses. Schools, groups and organizations that may be interested in having the YOUBET seminar delivered to them can contact CED at 451-2235 or cedsvg@gmail.com.