Posted on
SVGTU honours past presidents with Wall of Fame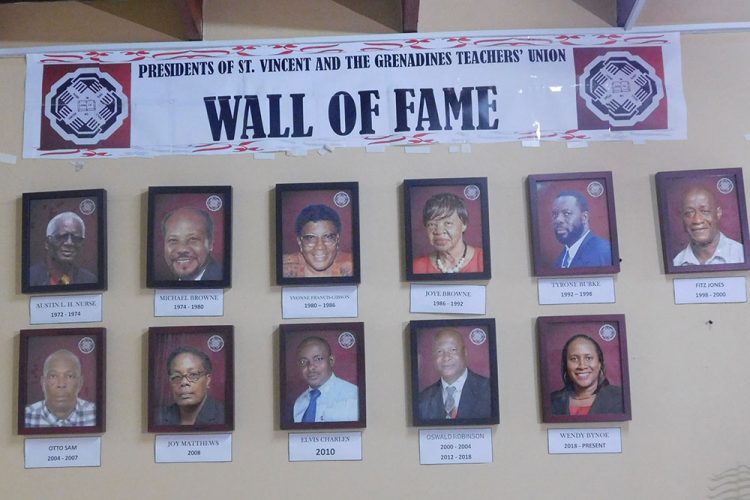 A wall of fame for past presidents of the St Vincent and the Grenadines Teachers' Union was unveiled this week.
The event took place on Tuesday during a cocktail event held as part of the Teachers' Solidarity Week celebrations.
"As an organization with 100 years of history, we have inherited a rich legacy. It is a legacy of which we are justly proud. Over the years of existence as a unified body, several stalwarts have laid the foundation on which we continue to build," said Wendy Bynoe, the current president of the union.
Bynoe said that the past presidents, through selfless service and personal sacrifice have led teachers through numerous struggles and "blazed the trail" for the ones that have come after.
She also pledged to document the union's history while honouring founding brothers and sisters.
The wall of fame features framed photographs of Austin Nurse, Mike Browne, Yvonne Francis-Gibson, Joye Browne, Tyrone Burke, Fitz Jones, Otto Sam, Joy Matthews, Elvis Charles, Oswald Robinson and Wendy Bynoe.
Past president, Joye Browne delivered remarks on behalf of the presidents featured on the wall of fame.
She congratulated the current executive for the initiative and agreed that it served as a part of writing the history of the union.
"This Teachers' Union has seriously impacted the life of this nation. We worked hard and we see ourselves, these past presidents as veterans of the struggle and the struggle is in the trenches of our nation seeking to wrest power from where the power is so that we can ensure that our teachers receive what they are due in terms of conditions of work, in terms of conditions of salaries, in terms of various benefits," Browne said.
The past president gave examples of the struggles she was referring to such as a piece of legislation that said unmarried teachers were to resign upon becoming pregnant.
This was a legislation that she worked to have removed under her presidency.
She also noted that under Oswald Robinson, maternity leave was increased and paternity leave was introduced.
"During the presidency of Brother Nurse, they tried very hard to get a credit union going. It didn't happen. It is after the strike of 1975 when the union recognized the need for an institution that could back its members financially, that the idea of the credit union emerged once more and in fact, was able to come into being because we had experienced the strike of 1975," Browne said.
She said that in that year, teachers who participated in the strike did not receive salaries for November and the need to establish the credit union became even more evident.
Attendees of Tuesday's event also had the opportunity to offer up open tributes.
Teachers' Solidarity Week culminates today with a march and rally beginning at 2 pm from the Peace Memorial Hall.