Posted on
Lab techs win Open category of NTRC I2 competition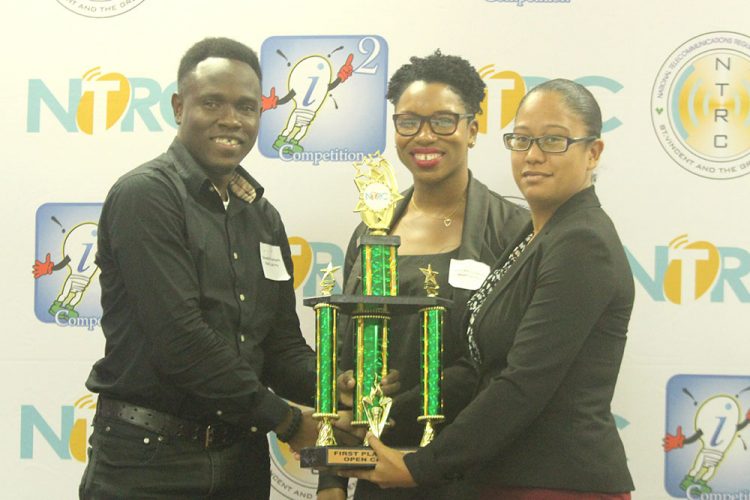 A mobile application which provides medical laboratory information to it users is the top app in this year's mobile application open category of the National Telecommunications Regulatory Commission's (NTRC) Ideas and Innovation/I2 competition.
The application was designed by a group calling themselves Med Lab Pro, made up of laboratory professionals Gerwren Fairbairn and Jeneika Johnney.
They copped the top spot last Wednesday at the Methodist Church Hall during the finals of competition.
Fairbairn said that the app can help address some of the problems that he and Johnney, as well as patients face at the Milton Cato Memorial Hospital (MCMH) on a daily basis.
The app tells persons what tests are available at the lab and the cost of the test. It can also allow persons to see when their test is completed and when they can go to the lab to pick it up.
Fairbairn said that the app also informs the users how to prepare for certain tests.
"So, a test like a urine culture, which requires the patient to perform a certain procedure, they will be able to follow the guidelines and come to the lab prepared and get their test done rather than being disappointed not doing the test properly and have to return home, so it solves problems like those," Fairbairn explained.
Johnney added that the app can help solve some of the problems they have.
"A lot of our patients complain about the financial strain they have to come to and fro and not be prepared for a test and have to repay to do certain tests so that is why we developed the app," explained Johnney.
Coming in second was the group "Dawati Techs", made up of Camraul and Donnette Cadogan. Their app is designed to promote and facilitate urban gardening. The app interfaces with an embedded electric system to regulate and maintain the condition of a grow bed as well as provide a forum to enable information exchange.
Third place went to "We are Creators", a group made up of Tevon Richards and Javid Rouse. Their app aims to assist unemployed people in finding jobs and using their skills to help persons make money.
The other groups in the open category were RDG (Romeyn Gibson and Huston Gurley), Error 404 (Mark Lewis, Carlon Bute, Azik Douglas, Dominic Horne), Xcite Business Innovations (Cecil Iroha and Okana Graham) and Positive (Renson Humphrey and Stevie Peters). Plumb Vision (Raymond Victory, Jonte Burke, Alanzo Dellimore and Amanda James) did not show up.
Winners were rewarded with cash prizes and electronic devices from FLOW and Digicel as well as Vitamalt from the St Vincent Brewery Limited.
Other sponsors included SEARCHLIGHT, Express Data, gogetta, KDLT, Tus-T and NBC Radio.