Posted on
Police Officers get upgraded modern ID cards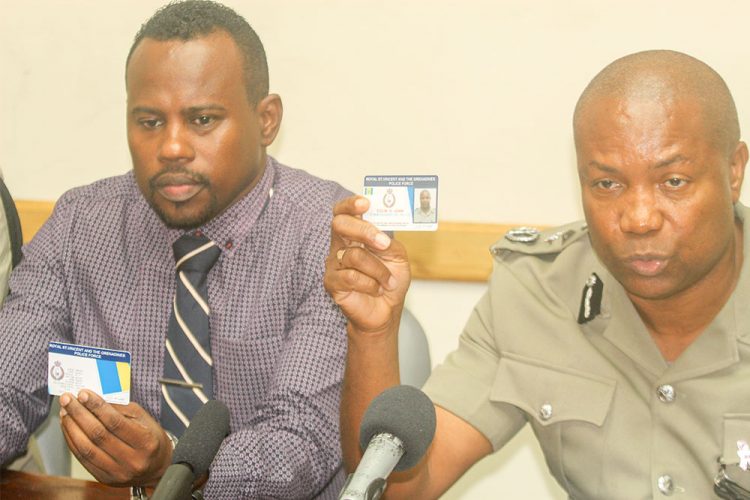 Members of the Royal St. Vincent and the Grenadines Police Force (RSVGPF) now have an upgraded modern identification (ID) card.
Introduction of the new ID card was prompted by complaints from both the public and police officers, with the public complaining that some police officers do not show identification cards when interacting with them, while some business places did not accept the old police identification cards.
Corporal Syon Shoy, one of the persons behind the new ID card, said the RSVGPF realizes that in an age of technology, security is paramount so when they came up with the new design, many things were taken into consideration.
He said the ID card is similar to the national ID card and driver's license and has all the features of both. The new ID card has the issue date, the expiry date, the officer's name, rank, National Insurance Services (NIS) number, voter's number and national ID card number.
"All the info on the national ID is on our ID. It is authentic and not easy to replicate," Corporal Shoy told journalists at the launch of the new ID last Wednesday at the conference room of the Central Police Station in Kingstown.
Head of the Police Public Relations Department Inspector Junior Simmons said the new ID is about maximising efforts to please the public and this view was shared by Commissioner of Police (COP) Colin John.
"The public from time to time would complain that police arrested them, and they never showed ID, so we are making the public aware that we in fact have an identification card.
"Also, previously we had an ID, but the security features that were added to this one is very significant, so it is an upgrade," the COP said.
The Commissioner said sometimes police officers complain that when transacting business, members of the business fraternity are reluctant and, in some cases, have refused to accept the police ID as a form of identification.
"We have spoken to the Chamber of Commerce and they had given us advice as to how we can upgrade or enhance the police ID and we have done that, and we hope that the members of the business fraternity will accept the police ID as a form of identification," Commissioner John said.