Posted on
Taiwan continues to invest in education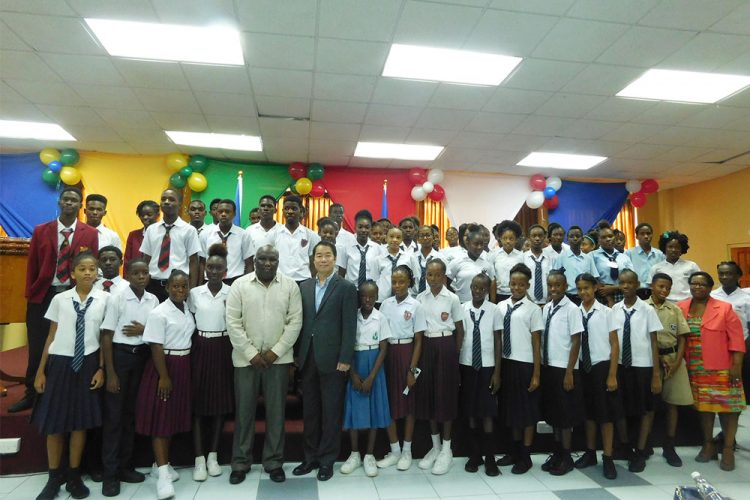 Close to 800 students in St Vincent and the Grenadines (SVG) will receive bursaries from the Republic of China on Taiwan to offset education-related expenses.
At a ceremony this week, funds were distributed to assist 286 students who attend primary and secondary schools in Kingstown.
And Calvin Ho, the Taiwanese ambassador said that similar ceremonies will take place over the next two weeks in Georgetown, Barrouallie, Community College, Bequia and Marriaqua.
This year, a total of 794 bursaries will be distributed to students at the primary, secondary and tertiary levels.
"The Taiwan scholarship programme was launched in this country in 1998…for assisting financially deprivileged students with their education since then. My government has made contribution every year to hundreds of students from primary, secondary and tertiary schools," he said.
The ambassador said that over US$2 million has been allocated to the programme since 1998.
He added that the Taiwan government doubled its yearly contribution to the programme, moving from US$100 thousand to US$200 thousand.
Ho said that this demonstrated his government's "emphasis to this very important programme and we are here to help more and more financially challenged students and their families."
Minister of education, St Clair 'Jimmy' Prince said that the Taiwan government has played a significant role in this country's education revolution.
And he lauded Taiwan for being one of St Vincent and the Grenadines' closest and reliable allies.
"St Vincent and the Grenadines and Taiwan continue to enjoy a long and mutually beneficial diplomatic relations. Over this period, we have engaged with Taiwan in areas of health and agriculture and infrastructural development, culture, security, information technology and education," he said. "We have received support in the form of technical and financial assistance, donation of computers, and youth empowerment services programme which benefits most of our schools."
The minister said that the bursaries being distributed allow many "at risk children" to purchase school supplies, meals and pay transportation costs to and from school.
He added that Taiwan continues to support the education of Vincentians by making scholarships available to students to pursue degrees in Taiwan.
Since that initiative began in 2004 and so far, 163 persons have benefitted.