Posted on
Sterilized seedling media available for SVG farmers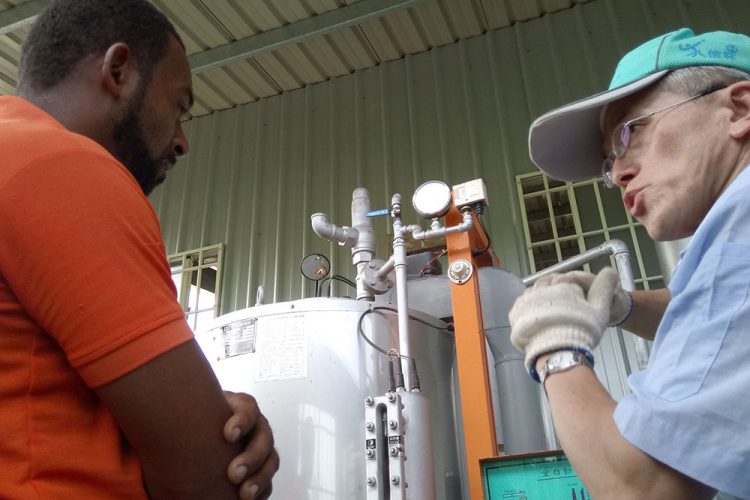 Healthy, sterilized seedling media are now available to farmers in St Vincent and the Grenadines thanks to the joint efforts of the Ministry of Agriculture and the Taiwan Technical Mission.
Since 2015, the Ministry and the Mission have been working together on the implementation of the "Project for Strengthening Farmers' Organizations and Improving Fruit and Vegetable Production Technology in St. Vincent and the Grenadines."  One main goals of the project is to assist the Vincentian farmers in having better yield by using healthier seedling media to grow plants properly.
Chao-Chiung Liao, Chief of the Taiwan Technical Mission, said that the healthy seedling media play a critical role on the growth of plants. If the seedling media are not healthy, the growing plants will have more pests and diseases.
Therefore, in order to provide better seedling media, the Mission has collaborated closely with the Ministry of Agriculture to install a steamer at the Agriculture Biotechnology Centre in Orange Hill. The Mission invited Wen-Yuan Hsu, a Taiwanese expert on steamer, to visit SVG last October to help the installation of the steamer and share his expertise on the operation and maintenance of steamers with Vincentian partners from the Ministry of Agriculture.
Chun-Chun Huang, the Specialist of the Mission responsible for Hsu's visit, stated that the steamer can sterilize soil and coconut fibre which are the main components of seedling media. With high temperature sterilization, pests, fungi and other pathogens in the soil and coconut fibre will be killed.
Huang stressed that the sterilized seedling media not only reduce the pests and diseases rate, but also decrease the usage of chemicals, such as pesticides etc. For more information about sterilized seedling media, SVG farmers may contact the Agriculture Biotechnology Centre at 451-1188.