Posted on
Searchlight awards top three Public Speakers with free digital subscriptions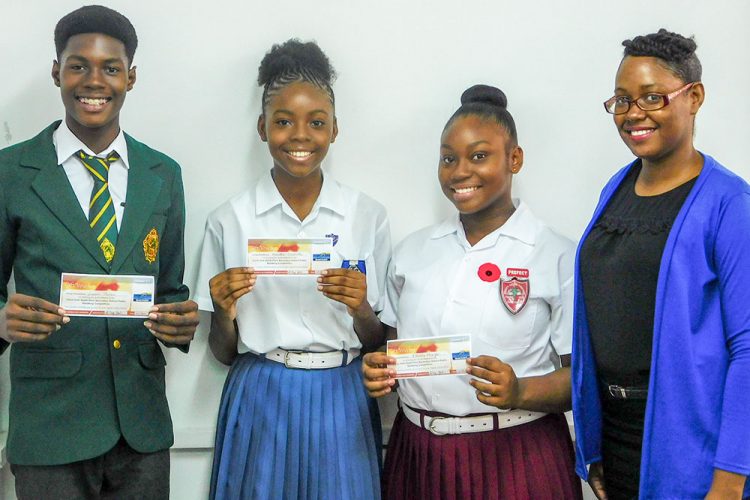 The top three performers at this year's Lions Club South FLOW Public Speaking Competition will, for the next 12 months, have complete access to SEARCHLIGHT newspaper online.
SEARCHLIGHT's marketing and sales officer, La Tanya Grant handed over vouchers to Laron Jones, Kenisha Castello and Fitzaria Morgan on Monday at a short ceremony at the company office in Lower Kingstown Park.
"This is basically an initiative to push you to continue reading and to congratulate you for the hard work that you've done. I know throughout the years, the public speaking has been one that is very competitive and you know to get to first, second and third place, you have to present and have your ideas well placed," Grant said.
The sales and marketing officer explained that students will have access to SEARCHLIGHT's digital content via their laptops, smart phones and tablets.
She also said that the newspaper's new app, KINGSTOWN SEARCHLIGHT, which can be used on both Android and iOS operating systems, will give students breaking news, updates and access to the e-paper as well.
Adrianna King, a teacher at the Bishop's College Kingstown said that initiative was one that is welcomed.
"Too often in class, we ask students to go to newspapers and they would say oh miss, nobody buys the newspaper and well we know we are in the age where children are always on their tablets, your cellphones, so to have free access for a year to SEARCHLIGHT, I think that's a good move and I hope that each student here will take full advantage of the service offered by the SEARCHLIGHT paper," King said.
The teacher also expressed hope that this was not the only year that the newspaper company hands out vouchers to top performers of the public speaking competition.
All three students said that they were thankful to receive the one-year digital subscription and promised to make good use of it.
SEARCHLIGHT's digital subscriptions include full access to full colour editions of both the Midweek and Weekend editions of the newspaper; access to the newspaper's read aloud and translation features; access to the print ad marketplace which allows readers to browse advertisments published in both the Midweek and Weekend editions without having to search those editions page by page; and an e-notify feature which allows subscribers to receive notifications by email of any article that contains search terms they specify.