Posted on
'D'Termine' showing a better way through music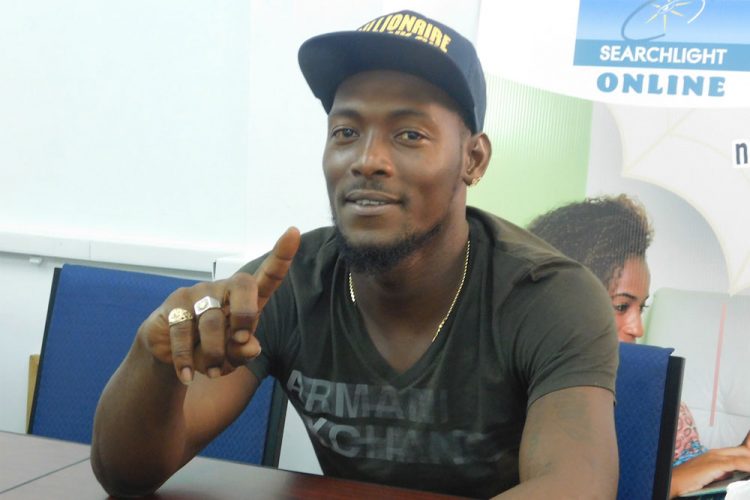 One Vincentian is determined in his quest to empower the masses with his music and he says that he is ready to let everyone know that there is a 'Better Way'.
Carlson 'D'Termine' Hannaway released his first ever album on October 26. The album is titled 'Better Way' and features 13 tracks across several genres including soca, dancehall and reggae.
In an interview with SEARCHLIGHT, the artiste said that he hopes to uplift "ghetto youths, reach out to the ladies who are afraid to look in the mirror and say they are beautiful" with his music.
"I just want to let them know there's a better way. In sports, if you doing music; don't give up. Just do your talent and focus on it. I'm reaching out to anyone in the struggle, even though you're living the good life. I'm reaching out to them same way too. That's why I'm doing different genres too," Hannaway said.
'D'termine', who grew up in Barrouallie, said that he comes from a musical family and that he started freestyling at a young age, which ultimately led to him penning a few songs.
The 32-year-old revealed that he wrote all the songs on his album.
And he spent at least six months working on putting it together in Jamaica, where he worked with several persons including those at DZL Records and Rickman Warren at Jamplified.
Hannaway also prides himself on being able to produce songs for various genres; a talent that he said helps him to "reach more than one audience."
Videos for two songs featured on the album, 'Don't wanna let you go' and 'Ghetto girl' have also been released.
The video for 'Don't wanna let you go', a reggae soca, was filmed in Barbados by KA Media and dancehall track 'Ghetto Girl' was filmed in St Vincent and the Grenadines by Boss Raw Media.
Other songs on the album include 'Summer Fling', 'Divine', 'Big-Up', 'The way you move' and 'Street Life'.
Hannaway said that the album is available on all popular streaming sites including Spotify, iTunes and Amazon.
"So far, it has been great, everyone will have their favourite track but they're loving it same way," the artiste said about the feedback he has been getting about his album so far.
'Better Way' was released under Hannaway's independent label, D'termine Nation.
Apart from the music, the artiste said a bigger part of the label will be instrumental in linking St Vincent and the Grenadines to the Caribbean and the rest of the world through festivals.
"It would be a great thing to just get all the islands, the Caribbean islands…in the UK or wherever link through festivals. You can get artists from there to come to vincy in the festival and when there's a festival in Barbados, you can get artists from here, artists from St Lucia," Hannaway said.
'D'termine' is extending encouragement for persons to subscribe to his social media platforms, 'D'termine Official' on YouTube and 'dtermineofficial' on Instagram.
He also thanked his management team and fans for the support that he has received thus far.