Posted on
Air Canada Vacations official meets with local hoteliers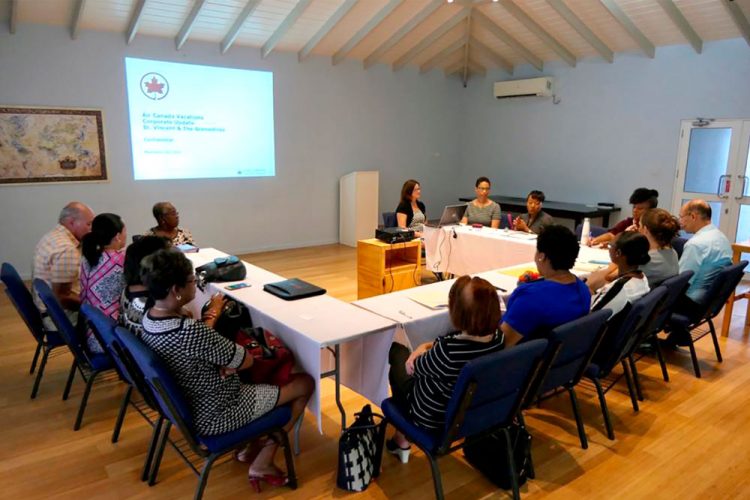 Product Development Manager at Air Canada Vacations Rose Gonzalez paid a visit to St Vincent and the Grenadines (SVG) earlier this week. Gonzalez who was accompanied by Shelley John, Director of Sales in the SVG Tourism Office in Toronto Canada met with hoteliers and conducted property and site visits during her stay.
In her presentation to local hoteliers at the Blue Lagoon Conference Room on Monday November 5, Gonzalez noted that Air Canada Rouge was pleased with the performance for the 2017/2018 winter season operating with a 90 per cent load factor on its Pearson/Argyle International Route; the carrier made its inaugural flight to the destination in December 2017.
The Air Canada Vacations' Product Development Manager spoke among other things of the initiatives being undertaken by Air Canada, to sell both flights and accommodation for SVG. She noted that they are always searching for the best destinations and are committed to packaging SVG as such. Gonzalez underscored Air Canada's commitment to their clients to offer care and class and encouraged the hoteliers as well as the Tourism Authority to ensure SVG is top of mind and resonates well with visitors.
In her comments, John outlined the several initiatives being undertaken in the Canadian Market to sell the destination and more specifically the Air Canada Rouge flights. These include the branding of 50 taxis using the call to action aircanada.com; she also noted that the destination participated in an Air Canada product launch held in Toronto on September 20. Both John and Gonzalez stated that in the Canadian Market 75 per cent of bookings are made through travel agents and highlighted the fact that in excess of 1000 travel agents attended the launch.
Chief Operating Officer of the Authority Faylene King expressed elation that Air Canada Rouge and Air Canada Vacations are again working with the Tourism Authority; she stated that the Authority looks forward to an even more successful partnership with the airline and its subsidiaries moving forward.
Air Canada Rouge recommenced year-round, weekly non-stop flights to the destination from Pearson, Toronto on Thursday October 25th 2018; a second weekly flight will be added on Sunday December 16; the Sunday service will operate until April 2019.