Posted on
CIBC FirstCaribbean Walk for the Cure hailed a success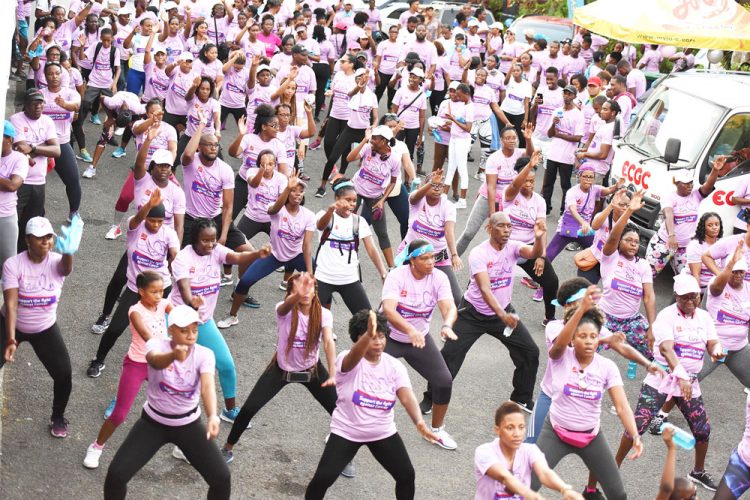 Kingstown was partly painted pink on October 6, as scores of participants sported their pink T-shirts and accessories during the CIBC FirstCaribbean Walk for the Cure event.
"This year we saw an increase in participation levels, with well over 400 walkers and to date we have raised some $30 00 to provide innovative breast health and breast cancer services," said the bank's Country Manager Shelly-Anne Samuel.
She noted that the funds raised this year will be donated to the St Vincent and Grenadines Medical Association to assist with their life-saving work. "The 2018 Walk for the Cure was indeed a success and we are looking forward to greater things in 2019 as the fight against cancer continues," Samuel added.
She said that every year the funds raised from the event go to support local community-based programs that educate, screen and diagnose women many of whom cannot afford services on their own. "This October we were overwhelmed by the enthusiasm, support and generosity of our community partners, friends and family members," she said.
The annual event is just one of many similar fundraising and awareness walks held across the other 16 territories where CIBC FirstCaribbean has a presence. They bring together people whose lives have been touched by cancer as well as awareness champions and sponsors to raise funds and knowledge in the fight against cancer.
This year's walk started at CIBC FirstCaribbean on Halifax Street, and continued to Sion Hill intersection to Arnos Vale Roundabout and back to Halifax Street. It was the seventh edition of the region wide initiative to fight against cancer which saw participants get blood pressure checks, released balloon and paused for a moment to remember those who died from cancer and those who are presently fighting cancer and those who are survivors.