Posted on
Prisoners rewarded for Growing In Time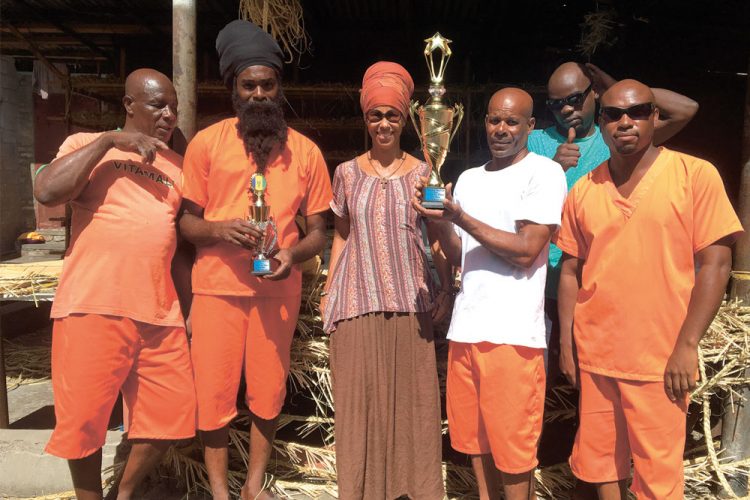 An artful and creative project that has created a sense of nostalgia among many who visited the booth at Everything Vincy Plus Expo this year, is also a source of rehabilitation and resocialization for inmates at local prisons.
Grow in Time is a marketing arm of a social project, where inmates at Her Majesty's Prison Kingstown and Belle Isle Correctional Facility engage in creating woven baskets, hats and mats using vetiver grass.
Vonnie Roudette, project manager told SEARCHLIGHT this week that the project was initially started in August 2015 and funded by the Food and Agriculture Organization.
"That was just a six-week initial training but I found that we started with the women, and the men seemed very interested in learning and I worked with them and their motivation and response was so great that I continued working with them on that for another year or so until I could source some funding to help strengthen the programme in Kingstown and expand it down to Belle Isle," she said.
She said that the Mustique Charitable Trust agreed to fund for another year and a half and since that came to an end, the project is being funded by the sale of products that have been created.
The project manager also said that proceeds from of sales are also used support various donations to the prison as well, one of the most recent donations being 12 drums to facilitate a drumming programme.
"This is all part, of course, the resocialization project and the transition from the prison life back into the community and feeling that you have something to contribute to community and you are a worthwhile and valuable member of the community," Roudette said. "This, of course, is key to a man or a woman staying out of prison and not reoffending; the fact that they feel part of the community and that they've got a contribution to make and can be recognized and appreciated as such."
Roudette said that when people came to the Grow in Time booth, they had many stories to tell about the vetiver grass products and some even remembered having at least a mat in their homes not so long ago.
At the expo, the Grow in Time brand placed second in the Best overall Booth/Table category and third in the Best Export Ready Product category.
And Roudette said that the inmates were extremely overjoyed because they never expected such incredible recognition for the work done.
"When people approach the product, they feel good. Not only with the quality of the product they've got and the fact that it'll last for decades and decades and is very good value for money but they can also feel that they're contributing and helping towards our mission, our social aim of creating a more peaceful and resilient society," she said.
The project manager said that other projects were also being implemented under the Grow in Time brand. One such project consists of using the vetiver, also known as lavender or hurricane grass, for land stabilisation.
The idea is that former inmates, who have come out of prison with the craft skills be involved in planting, cultivating and further hand craft production.
Roudette also said that they are looking to have a physical spot to sell Grow in Time products but until then, interested persons may make requests for items on the Grow in Time Facebook page.
Persons will also have an opportunity to purchase weaved baskets, mats and other products at a sale scheduled for Friday, December 21 in Kingstown.