Posted on
FLOW offers platform for local entrepreneurs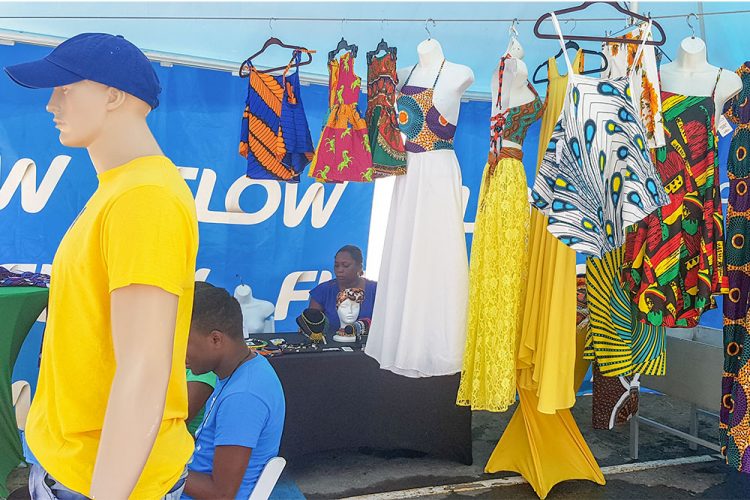 Celebrating all things Vincentian, Telecommunications power house Flow this week transformed in to a cultural hub to commemorate the 39th anniversary of St Vincent and the Grenadines.
Providing a platform for local entrepreneurs to market their products and services, the Flow team this week featured a cultural exhibition aptly dubbed 'Flow Creole on the Promenade'. This week, close to 10 entrepreneurs took advantage of the platform available to them to promote their upcoming businesses.
Gabrielle Howard, proprietor of 'Get Lashed' enterprise expressed much gratitude for the exposure to her business. She said the opportunity to feature her services in the Flow Creole on the Promenade has been beneficial as she has been able to expand her clientele. She further divulged that based on persons recommendations, she is currently considering expanding her business to provide even more services.
Meantime, owner of Natural Beats, Ingrid John, stated that she was more than happy to accept the opportunity to partake in Flow's week of independence activities. According to John, with the heightened Independence celebration activities, it has allowed many of her customers and even new clients to take advantage of her Independence wear and jewelry.
Also expanding her clientele, Vanessa Francis, owner of VFrancis Arts & Designs, stated that many persons have requested orders. Francis who designs accessories, bows, suspenders etc… said the week of activities has helped to propel her business further.

Meanwhile, Flow's Sales and Consumer Manager, Andrea Liverpool said the company decided to launch a significant promotion to commemorate the 39th Independence anniversary. She outlined that existing customers can benefit from a 39% off on accessories store wide and also 39% discount off handsets. She said that customers have gravitated to the $39 trade in offer.
According to Liverpool, the offers have been noteworthy as they do not simply cater to new customers but it also caters to existing customers. She further noted that persons would be able to take up the offers over the weekend at the 'Everything Vincy + Expo' in Kingstown, as well as at activities held by the SVG Motor Sports at the E.T Joshua Tarmac.
When asked about plans in the pipelines, after Independence, the Consumer Sales Manager emphasized that Christmas is around the corner, and customers should stay tuned for the surprises in store.