Posted on
Five persons granted bursaries from GECCU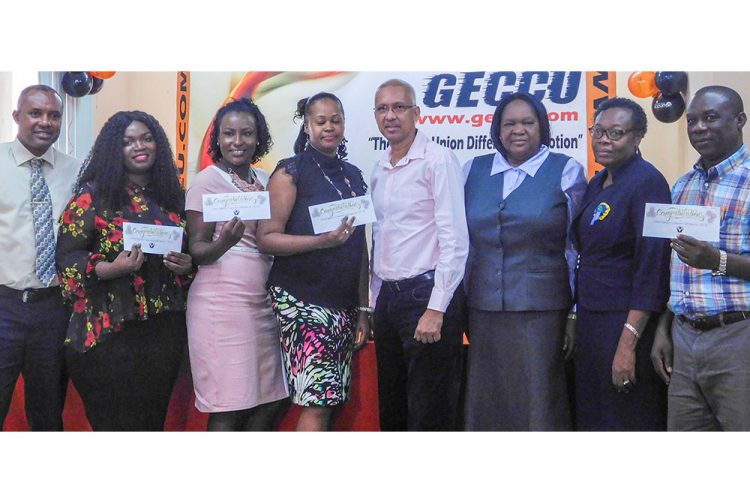 Five persons have been given bursaries from the General Employees' Co-operative Credit Union (GECCU) to help offset the cost their university education.
Recipients of this year's scholarship was Shamika Cambridge, Ashanna Samuel Jack, Gabriela Kydd, Suzette Lewis and Alroy Harry.
Mineva Glasgow, chairperson for the GECCU scholarship committee said that there were so many applicants with creditable performances that the committee wrote to the board for an increase in number of bursaries.
"I am extremely elated to say five because for the past three years, we were awarding three bursaries at $3000 each," Glasgow said at the presentation ceremony on October 17. "The GECCU board has a passion for education, for all students who demonstrate their ability to matriculate to any level of learning and development. It is always significant when one can help young brilliant minds to pursue their careers."
The committee chairman implored the recipients to be thankful for bursaries because she said they were important in bridging the gap "between living expenses and student loans".
Gary Matthias, GECCU president said that the institution's decision to extend academic assistance over the last five years is an extension of its strategy policy to educate members.
He said that GECCU considers education extremely important to one's survival, growth and development. And the president encouraged recipients to volunteer and work with credit union movements to make a difference together.
Senior education officer, Hannah Browne also delivered brief remarks at the presentation ceremony. Browne said that the ministry of education was pleased to partner with organization like GECCU, who make education a main funding priority, particularly "in these challenging economic times".
"Indeed, it is a win-win situation for all of us as your faithful members are rewarded, our sons and daughters access higher learning, your membership is likely to grow from such incentives and the country benefits from a cadre of trained persons in various fields who can contribute to a more literate society," she said.
Shamika Cambridge thanked GECCU on behalf of this year's recipients. She assured that the money would be put to good use as it would help in recipients' educational advancement.
"We urge that you continue to invest in the human resource of St Vincent and the Grenadines since true development comes through an educated and equipped work force," she said.