Posted on
Taiwan pledges continued support to SVG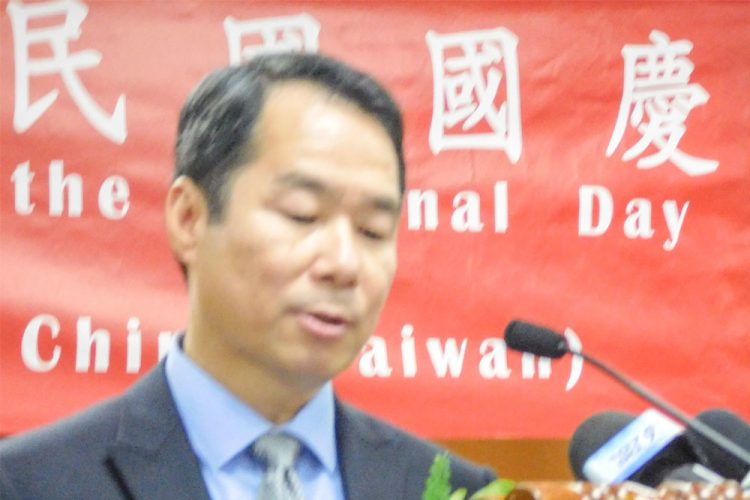 Taiwan's economy continues to grow, and that country is not keeping all its wealth for itself but sharing it with St Vincent and the Grenadines (SVG).
"As we celebrate the 107th birthday, I express my sincere appreciation to the government and people for a wonderful friendship and I assure you, we will continue to further strengthen the relationship," Taiwanese Ambassador Calvin C.H. Ho told a packed Methodist Church Hall in Kingstown on October 8.
Ambassador Ho was speaking at an event held to mark the 107th National Day of the ROC and the gathering heard that since 1981, the ROC and SVG have been firm partners and that has seen the ROC help improve this country's agricultural sector, public health set-up, Information and Communications Technology (ICT) infrastructure, the education system while also aiding in human resource development among many other things.
Ambassador Ho said that Taiwan is also proud of its bilateral co-operation with this country and that is exemplified by Taiwan's help in establishing the Argyle International Airport (AIA), more specifically, the terminal building.
"This year, we have seen more non-stop flights (at the AIA) and Taiwan is honoured to have been involved in that project," said Ambassador Ho who noted also that his country helped with the refurbishment of the Rabbaca Bridge, a structure that connects two sides of the mainland, much like the connection SVG and the ROC shares.
Addressing the co-operation even further, Ambassador Ho said that education is a top priority and last August, 20 more Vincentian students went to Taiwan on scholarships, taking the total to 163 students since 2004, not including persons who applied on their own to attend universities in Taiwan.
He said Taiwan is also committed to sponsoring the YES and SET programs here while contributing in areas like diabetes reduction. The Ambassador also noted that for the first time, Taiwan's International Development and Co-operation Fund has teamed with SVG, while they have also introduced an agricultural revitalization project which will share Taiwanese experiences and help local farmers improve fruit yield.
"The electronic document records management system project will be finished at the end of 2018 and we are working on a CCTV project to see how we may integrate CCTV with the e-bus and provide passengers safe commuting alternatives and work with the police to prevent and combat crime," said the Taiwanese Ambassador.
Addressing positives in Taiwan, Ambassador Ho said his country has implemented important reforms and the economy grew 2.86 per cent last year, a three-year high, while the unemployment rate, for the first half of this year, fell to 3.66 per cent, a 17-year low.
"Wages are at a historical high and this shows that Taiwan has left economic stagnation behind. To ensure quality of life and employment, central and local government has been working to implement housing policies that will see housing justice done to help people live more fulfilling lives," Ambassador Ho told persons at the celebratory event.
He also noted that smart machinery has become Taiwan's third industry and they have become a manufacturing centre for smart machinery and high-end components.
The major industries in Taiwan are electronics, petroleum refining, armaments, chemicals, textiles, iron and steel, machinery, cement, food processing, vehicles, consumer products, pharmaceuticals.
Ambassador Ho also noted that Taiwan has major accomplishments in agriculture, including creating a sustainable green environment, stabilizing farmer incomes and promoting intelligent production.
"We continue to strengthen international ties…we made great efforts on judicial reforms over the last two years," said Ambassador Ho.
The event also heard remarks from Prime Minister Dr. Ralph Gonsalves.