Posted on
Full STEAM ahead for SMSS Science Club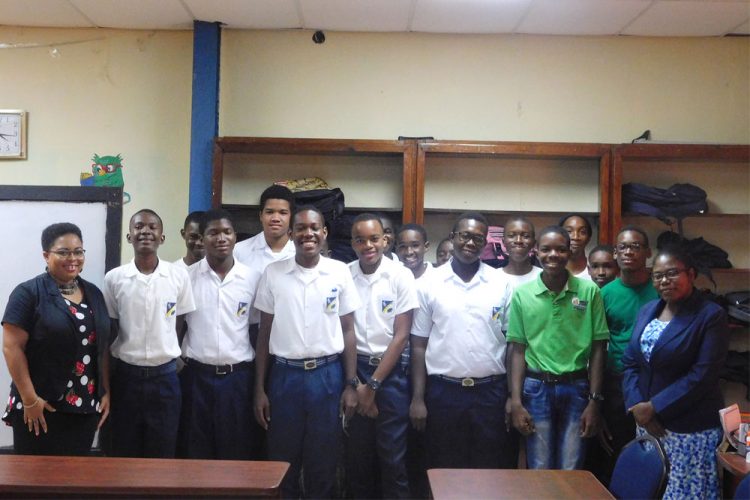 The St Martin's Secondary School is moving full STEAM ahead with its recently launched Science and Environmental Club.
At the launch of the club yesterday, the school's move to merge the previously existing Environmental Club with a Science component was announced.
Lyliesia Harry, the head of the Sciences department said that the club's mission statement is "Exploring Science, Technology, Engineeering, Arts and Mathematics (STEAM).
"And our vision statement is to provide a platform where students can gain knowledge in diverse scientific disciplines in order to become critical thinkers, innovators, and problem solvers," Harry said.
The teacher also said that the club has already started working on the art aspect of the club, where they have used recycled materials to create art pieces.
And she noted that other projects, including a vegetable and plant garden and a school beautification initiative, will begin in the near future.
"We know the importance of science in the school curriculum and we know the importance of science in our lives. Almost everything we do at school, at work, at play, at home involves some aspect of science and I'm sure that your participation in the science club will not only widen your knowledge of science in the school but it will also guide you in your daily lives," Wendell Edwards, the headmaster, said at yesterday's launch.
He further commended the members present for their readiness to participate in leading the newly amalgamated Science and Environmental Club.
The boys were also encouraged to be responsible scientists by senior education officer with responsibility for Sciences, Juanita Hunte-King.
Hunte-King commended the initiative of a science and environmental club as she described it as an asset that is "very necessary".
The education officer said that there were scientists who could change the world for the better and others who could change it for the worse.
"It's about how you use these things. I am happy, very happy that you have started this club and I am extra happy that you have made it your focus to change the world and I want to implore you to change the world for good by being a responsible scientist," she said.