Posted on
Searchlight to feature young, overseas based athletes in video documentaries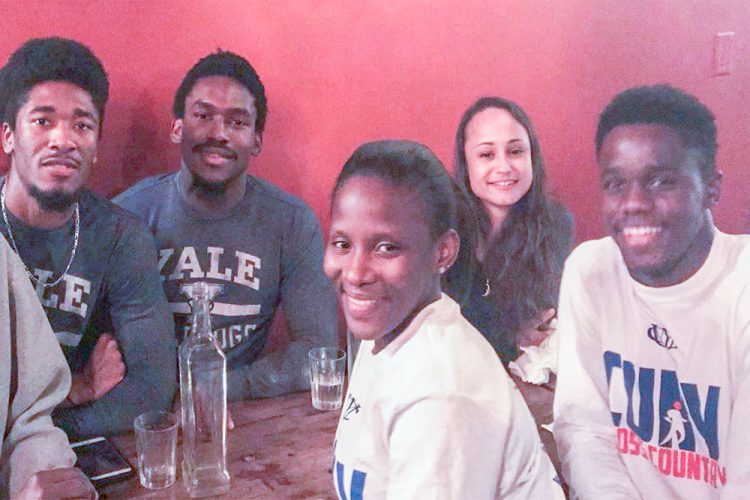 by KATHERINE RENTON
THE STORIES OF four Vincentian athletes on scholarships, holding on to fellowship and dreams as they brave training in a foreign land, will be told this independence.
Last December, director Aiko Maya Roudette flew to New York with the intention of making four short documentaries zooming in on the lives of Rodgike Thorpe, Zenron Chance, Kailon Kirby and Shantal Rouse.
This October, "Being a Vincentian Athlete" will be broadcast on SEARCHLIGHT's website (https:// searchlight.vc) and social media channels from October 23 to 26. Rouse, a past student of the Bethel Secondary School, and Kirby, Chance and Thorpe from the Thomas Saunders Secondary School, were awarded two-year scholarships, after showing potential across their tenure as secondary school athletes, Roudette informs.
The series is the product of a two-person film crew, and the Director trailing the four track athletes, through the snow, to training, school, and the home that they share, to capture a full view of their life in New York.
The films overlay against the daily routine of the 18 to 22 year old students, their memories of when they first started on the path of track, and what they envision for their future.
The director, who spoke to SEARCHLIGHT about her hopes for the films and the process, stated that she hopes that the series would inspire other aspiring athletes in St Vincent and the Grenadines (SVG) to think "it is actually possible with hard work."
"In New York they don't do anything but train, their trainings are long and hard, and they have to go out in the snow or in the sleet and the rain, so I just think that it's very inspiring to see what these young people are doing and what they push themselves through, and how proud they are to be Vincentian, and how much they want to represent St Vincent in the future," Roudette explains.
"Shantal's story is particularly interesting because she's away from her daughter, and she's a young mother with a lot of ambition," the director revealed, commenting that Rouse misses her child every day that she is away.
"They work extremely hard, and are very committed to what they do, and it becomes very painful," Roudette stated.
Another aspect that the films hope to show, is how the four work to build a home away from home.
"That's an important part of the story how they have kind of, they helped each other, and they're kind of like a cultural base for one another while they're in a different culture so to speak," Roudette commented.
"They live together, so they have this connection, they support one another,they're like a family, so they do a lot of things together. They go out running together, they make meals together, they rely on each other for various things, you know, they've become friends," she stated, while talking about the dynamic of the group.
"I just think these videos can have a very positive effect on aspiring young athletes here in St Vincent, and I think that they(the athletes) deserve to be celebrated for the amount of hard work and sacrifice that they put in," Roudette stated.