Posted on
Guardsman has provided top-class security service in SVG for 15 years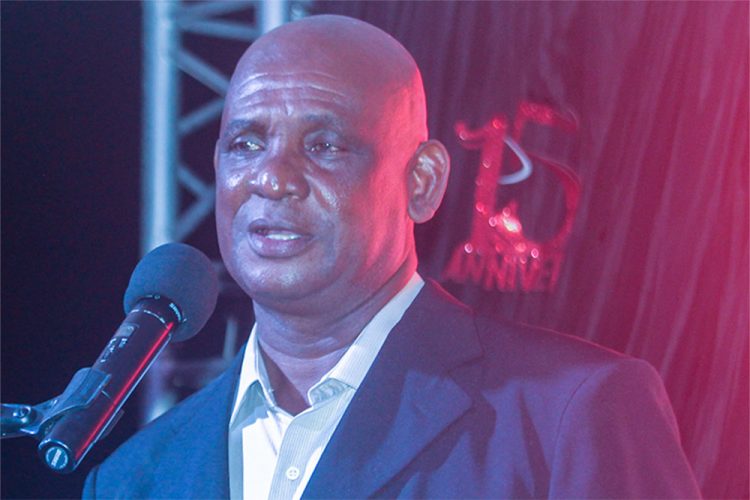 ONE NIGHT ABOUT 15 years ago, Guardsman SVG co-founders Keith Howard and Albert Porter were looking at television when their attention was drawn to a news report about someone being robbed while taking a night deposit to the bank.
That was not an isolated incident, so the business partners came up with the idea to provide more secure security service for St Vincent and the Grenadines (SVG). "…All we were thinking about was getting people's money to the bank safely," Howard explained last Saturday at the French Verandah in Villa.
The Chairman of Guardsman St Vincent was speaking at the company's 15th anniversary awards ceremony at which employees were recognized for their years of service.
Howard said he and Porter wanted to provide a top-class service, so at first, their plan was to purchase a Brinks security truck to take people's money from one location to another, so they put together a business plan and took it to the bank.
"When we got to the bank, the banker said to us, 'What you guys know about security?' So we looked at each other and said, 'We know we need some security in St Vincent'
and the banker asked what a mechanic and a brew master knew about security," recalled Howard.
They then decided to align themselves with Guardsman Jamaica and months later, in October 2003, Guardsman St Vincent was born.
Howard paid tribute to Guardsman Jamaica and Lieutenant Commander George Overton (Guardsman Group Director – Communications and Quality Control) who made an invaluable contribution in the early years. "Today, the proof is in the pudding and you can see exactly what we have today as a result of Overton's hard work," said Howard.
One particularly difficult hurdle to overcome was to get permission from the police to arm their guards. Howard said after a few months of negotiations, the authorities understood what they were trying to achieve, and permission was granted.
The Chairman said this decision has proven effective and he thanks all the persons responsible for making it a reality.
The company also looks out for the well being of its staff members. Children attending secondary school whose parents are members of staff are provided with scholarships and staff members have medical, vision and dental insurance for them and family members.
"We are on a journey and that journey will take us to the next level. We are looking for more avenues of service," Howard stated.
On Saturday night, 39 employees were recognized for giving five years of service, 32 persons for 10 years of service, while two were recognized for being with the company for 15 years.
Services provided by Guardsman include guarding (static guarding and armed guard), patrol, cash in transit, data storage, K9 unit (guard dogs) and alarm and surveillance services (CCTV).