Posted on
Call made for equal treatment of visually impaired persons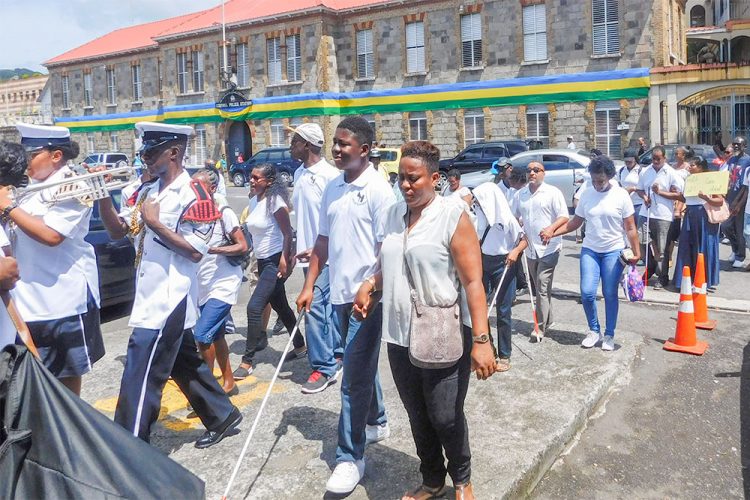 PEOPLE WHO ARE blind or visually impaired should be treated equally as those who have sight.
Laura Anthony Browne, former director of planning, made this declaration at the World White Cane Day rally yesterday, while delivering the feature address.
World White Cane Day was celebrated in this country with a march through Kingstown and a rally at the Solidarity Car Park.
The event is commemorated annually worldwide on October 15, as a way of educating the world about blindness and how blind people and those with sight can live and work independently in the same communities.
"I do not know for certain but I can imagine that it feels like a tragedy and it is perhaps a sad moment when a person is born blind or later loses their sight. But if you stop to think about it for a while, I would say the real tragedy is not so much the act of physical blindness, not so much the attributes of being blind, but rather the real tragedy is the response of society to those who are blind," Browne said.
The feature speaker said that society should be more embracing of persons who are blind.
She added that one cannot look at someone and determine who is blind or not because everyone is physically the same.
She also said that being blind or visually impaired should not shape people's attitudes because disabled people have the same feelings, needs and desires as any other person without a disability.
"…We must begin to treat them as equals," Browne said.
Cheryl Adams, president of Voice of the Disabled also delivered brief remarks at the event.
"The white cane is recognized as a symbol of independence," Adams, who is blind, said as she delivered her speech using braille.
The president said that she often refers to her white cane as her eye and that it was a sign of autonomy, power and dignity for the blind and partially sighted.
She added that once persons are trained effectively in using the cane, they can go anywhere they want to go.
And she called on the government to put budgets in place so that more blind and visually impaired people in this country can have access to white canes, free of cost.
"I am going to make a pledge today, I'm going to say to my Cabinet colleagues tomorrow – I don't think the duties on the canes are so expensive or so exorbitant – but I am going to make the pledge and ask them for this year's budget deliberation and next year's budget when it is passed, that we make the white canes duty free for the persons who are visually impaired or are blind," said Frederick Stephenson, the minister with responsibility for disabilities, in response to Adam's call.
Stephenson also said that the government has made provisions for disabled people through the building code legislation.
He said that new buildings are to be built with wheel chair ramps, elevators and hand rails to ensure that persons with disabilities can have easy access.
Voice of the Disabled, the organizers of yesterday's events, extended gratitude to sponsors of the events including Digicel, National Lott .