Posted on
Dr Gonsalves advocates for ROC on Taiwan to be a member of the UN and the WHO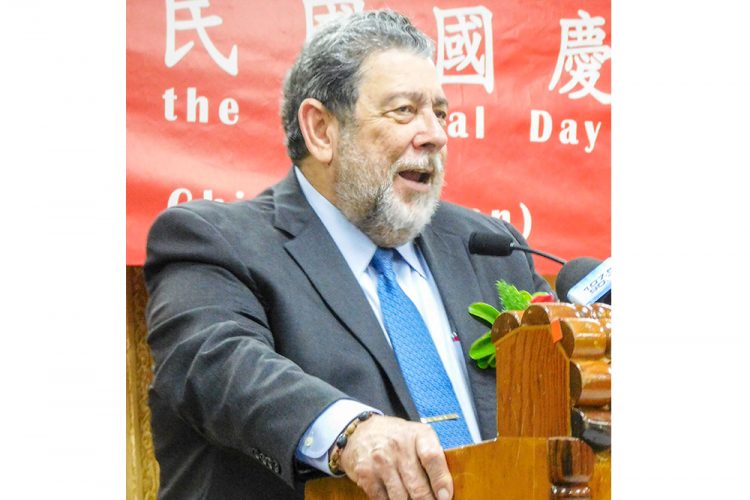 If the Republic of China on Taiwan (ROC) can be a member of the World Trade Organisation (WTO), why can't it be a member of the United Nations (UN) or the World Health Organisation (WHO)?
That is the question being asked by Prime Minister Dr Ralph Gonsalves as he continues to make his case for the ROC to become part of the UN and other international bodies.
Speaking on Monday at the Methodist Church Hall in Kingstown where a reception was being held in celebration of the 107th National Day of the ROC, the Prime Minister, one of the most vocal advocates of the ROC at the UN, said it is very difficult to speak about the ROC without addressing the Chinese civilisation.
"Our government holds the view that there is one Chinese civilization with different political expressions…my point is that…in due course without interference, whatever the difficulties in the Chinese civilisation and the challenges, they will work them out together," Gonsalves told the gathering.
He said that the People's Republic of China, the ROC, St Vincent and the Grenadines (SVG) and the United States of America (USA) are in the WTO, so why can't Taiwan join in other organisations and form partnerships like this one.
"I believe that is the easy one for everybody to be in, because Taiwan is a very wealthy country, very difficult to exclude them from international trade and relations… Taiwan is in terms of foreign reserves, one of the top 10 countries in the world even though it is only 23 million people," said Gonsalves who added that Taiwan's very buoyant economy cannot be ignored.
"So, if we can all be in WTO, why can't we all be in the WHO? Because just like money moves, so too do diseases.
"And why can't Taiwan be part of the International Civil Aviation Organisation? They have aeroplanes, they move. So that when we make the case as I have made the case repeatedly at the UN for Taiwan to have the right to participate in the specialised agencies of the UN, I have just made the case," Gonsalves stated, adding that this is a principled, realistic and pragmatic view.
He added that although the ROC and China have different views, investors from both countries do business and migration also takes place.