Posted on
Taiwan Ambassador praises SVG during National Day celebration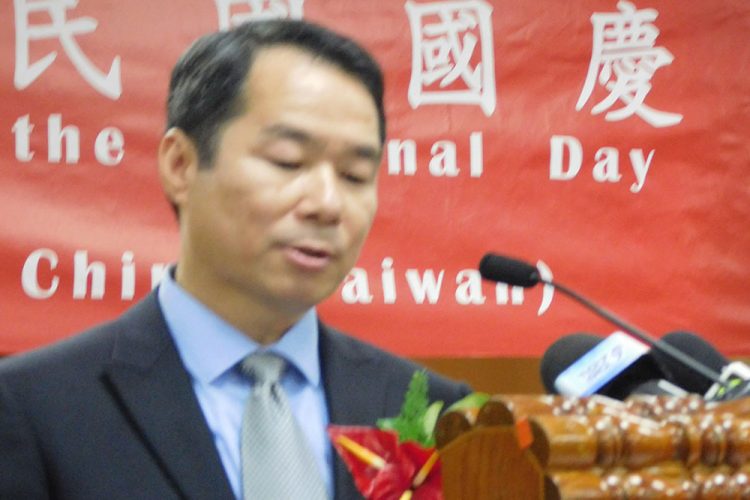 As the Republic of China on Taiwan (ROC) continues its bid to regain its seat at the United Nations (UN), the support given by St Vincent and the Grenadines (SVG) is greatly appreciated by the Asian nation.
This was made clear last Monday at the Methodist Church Hall in Kingstown by Taiwanese Ambassador Calvin C.H. Ho while he delivered an address at a reception held in celebration of the 107th National Day of the ROC.
During his presentation, the Ambassador praised SVG and Prime Minister Dr Ralph Gonsalves for the support given to the ROC at the UN.
"We appreciate very much, the appeal from honourable Prime Minister Dr Ralph Gonsalves to the United Nations for opening its arms to Taiwan and urge for respecting the rights of Taiwan's participation in the world of specialized agencies of the UN," Ambassador Ho told the persons gathered at the Hall.
Taiwan wants to become a member of the United Nations. They lost their seat in that body in 1971, when the UN recognized the People's Republic of China instead. There can be only one China in the world, the UN decided, and the government in Beijing runs it.
Ambassador Ho spoke specifically of the PM's address at the 73rd session of the UN General Assembly late last month.
He said SVG is helping Taiwan's voice by joining with them and emphasizing that the UN should not deprive the people of Taiwan of their right to visit UN premises and attend meetings.
Ambassador Ho said that Taiwan wants to have dignified participation in Sustainable Development Goals (SDG) related meetings, mechanisms and activities and they are grateful to SVG for the unwavering and vocal endorsement for Taiwan's international participation.
The Ambassador also noted that because of China's interference, Taiwan was unable to attend this year's World Health Assembly, but Minister of Health Luke Browne and other countries spoke directly and indirectly in support of Taiwan at this year's session.
This was Ambassador Ho's first National Day in SVG and he pledged his country's continued support to SVG in improving the Information and Communications Technology (ICT), agriculture and education sectors among other areas.
The National Day celebrations were attended by, among others, Governor General Sir Frederick Ballantyne, Prime Minister Dr Ralph Gonsalves, Justice Brian Cottle, Speaker of the House of Assembly Jomo Thomas and Commissioner of Police Collin John.
National Day, also referred to as Double Ten Day or Double Tenth Day, is the national day of the Republic of China (ROC). It commemorates the start of the Wuchang Uprising of October 10, 1911 (10-10 or double ten), which led to the end of the Qing Dynasty in China and establishment of the Chinese Republic on 1 January 1912. Methodist Church Hall in Kingstown