Posted on
We are not in a crisis – PM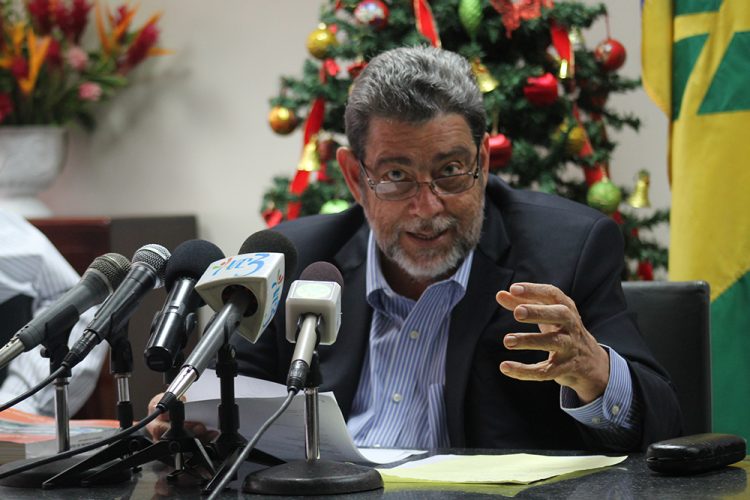 Although crime is a problem in St Vincent and the Grenadines (SVG), the Prime Minister does not think that it has reached crisis proportions.
"Of course we have a problem of crime, but don't say it is over running the country," Dr Ralph Gonsalves commented on Tuesday.
He said several persons in the country, who are politically motivated, want to transform the crime problem into a crisis.
"A crisis is a condition where the principals are innocent of the extent of the condition and have no idea as to the way forward. The government has a realistic view as to the situation of crime and we have elaborated the program, framework and details within it," Gonsalves told journalists at Cabinet Room.
Gonsalves, who is also minister of national security, said SVG has over 800 policemen, not including coast guard officers, firemen and prison wardens, while in 2001 when the ULP came to power, there were fewer than 500 policemen in the Royal St Vincent and the Grenadines Police Force.
He said police stations have been built and renovated and police officers have had increases in salaries and have been provided with improved equipment and vehicles. More policemen have also been trained.
The national security minister however noted that although this may be the case, the security mechanism still has additional work to do, so he he does not have time to play politics with crime.
"The Opposition say they want to work with Ralph to fight crime when all you get from them is opportunism in relation to matters relating to crime.
"I can't sit down and talk to people on a subject who are stuffed with opportunism and who want to make partisan political an issue which is not partisan political," said Gonsalves, most likely referring to the call by the New Democratic Party (NDP) and its leader Dr. Godwin Friday for the Opposition and Government to work together in crime prevention.
"They are hoping to instil fear in people and see if they can ride it on the back to an election victory. Not once I am around, they wouldn't get the space to do that," said Gonsalves who said he will call out persons who are spreading untruths.
"I haven't seen one single proposal from them in relation to deal with any matter on crime," he stated.
"They think I doltish? They want to come and make politics with the issue of crime? No, no, no, not while I am around," Gonsalves said, while adding that he has learnt from his experiences.
He said the NDP says that the fact the he is Prime Minister is the reason for crime.
"That is their first anticrime measure — get rid of Ralph; their second one — elect us, there will be a land of milk and honey so there will be no economic problems…," said Gonsalves who noted that there are 6000 more persons working now than in 2001 and indigence has moved from 26 per cent to 2.9 per cent. He said housing is better and more people are going to university and those are anticrime measures, but the NDP still thinks that if they get into power, they will end crime.
"Friday says that St Vincent and the Grenadines is overrun by criminals; criminals control St Vincent and the Grenadines, overrun it, and the police have no capacity to deal with this overrunning, they're incapable, well the thing is so untrue," said Gonsalves.