Posted on
Pan pioneers in T&T: Mourning one, honouring another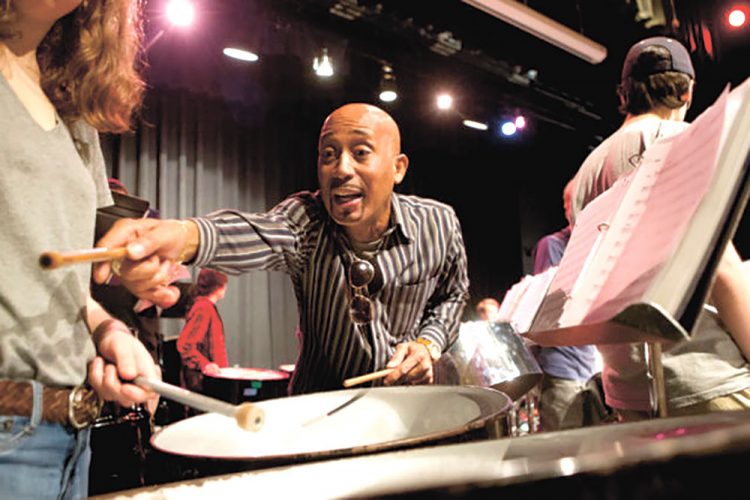 by Renwick Rose
The entire steelband and cultural communities in Trinidad and Tobago are mourning the loss of, and paying maximum tribute to, one of the modern giants of the steelband movement in that country. Ken "Professor" Philmore died at the San Fernando general Hospital on Sunday, September 30, after a fatal traffic accident.
"Prof" as he was popularly known was an outstanding performing artist, in T&T as well as all over the world, composer and arranger. He has been associated with one of the outstanding steelbands in South Trinidad, Fonclaire, for whom he arranged for a number of years, as well as Sound Specialists of Laventille and the six-time panorama champions of Brooklyn, New York, Sonatas.
Philmore was very much involved in the ongoing quest for the development of the pan, the only musical instrument to be developed in the 20th century and the greatest contribution of the Caribbean to the world of music. He worked along with the University of the West Indies at St Augustine in the development of what is known as the Percussive Harmonic Instrument and with UWI Pro Vice Chancellor, Dr Brian Copeland, who is credited with the invention of the G-pan, considered as one of the most important developments for the steelband instrument in recent years.
The "Professor" of the pan world followed in the footsteps of earlier pan pioneers in T&T. One of these, Neville Jules, still alive at the ripe age of 84 years, was recently honoured by the Government of Trinidad and Tobago on the occasion of that country's 56th anniversary of independence. Jules was awarded the country's Chaconia medal (silver) for his outstanding contribution to culture and community service.
Neville Jules is a living legend in the world of pan, the founder of the inimitable Trinidad All Stars steelband, a pan inventor, innovator, pioneer, arranger, manager and captain. He is one of the pioneers of the modern steelband, inventing a range of pans which helped to take the steelband to the heights of international respectability.
His contributions went beyond music for he helped to mold and develop the men of the "underclass" from the so-called Hell Yard of East Dry River to become one of T&T's most successful, best-known and respectable steelbands.
As we here struggle to develop our own pan movement we too must cherish, acknowledge and support the efforts of our own pan giants in St Vincent and the Grenadines. Let their names be called too, their accomplishments recognized and the pan be treasured. Perhaps it would be fitting to recognize Kingsley "Hero" Roberts for pan, calypso and youth development at our Independence celebrations.