Posted on
Ministry holds National Youth Symposium at Peace Memorial Hall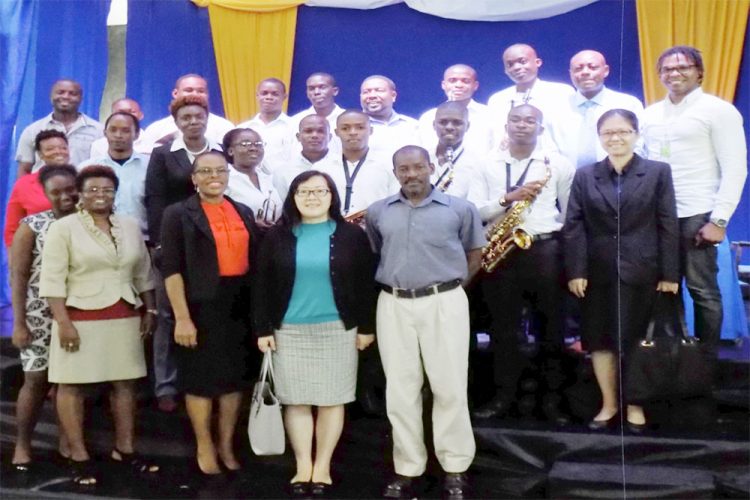 The Ministry of National Mobilisation through the Youth Affairs Division held a youth symposium on Thursday, September 27 at the Peace Memorial Hall in Kingstown.
The Symposium was held under the theme "Youth – alternative employment opportunities for sustainable development." Addressing the gathering, Ena Walters , the officer in charge of the Youth Affairs Division provided an overview of the Division while sharing plans for youth development.
In highlighting the achievements made by the Division over the years, Walters mentioned the group of young men and one young lady sitting behind her who played the National Anthem and provided musical renditions during the opening ceremony. She said they were part of the pilot project of the Ministry through the YES program.
In recognizing the youngsters, Walters said they were enlisted in the program in February of this year when an MOU was signed between the Ministry of National Mobilisation (Youth Affairs Division) and the Ministry of National Security (The Royal St Vincent and the Grenadines Police Force (RSVGPF)), which will provide the youngsters with guidance and musical exposure, with the hope of being officers of the RSVGPF on completion of the program.
Minister Stephenson expressed support for the programs of his Ministry and pledged his government's continued investment in youth development. He further thanked the Embassy of the ROC Taiwan for their continued support to the YES program which has been in existence for some 17 years and has seen tremendous growth in programming and new initiatives that would support the Youth development landscape of the Vincentian society.
During the opening ceremony, the band apprentices played the national anthem of SVG and other musical renditions. Their performances were received with great excitement and applause from the audience and the head table.
Following the closing ceremony a panel discussion was held that looked at the theme as the main topic. Five youngsters made presentations which provided the gathering with an opportunity to interrogate their current practices and look at ways in which they could become involved to enhance their own marketability.