Posted on
NBC Radio no longer just the 'old people station'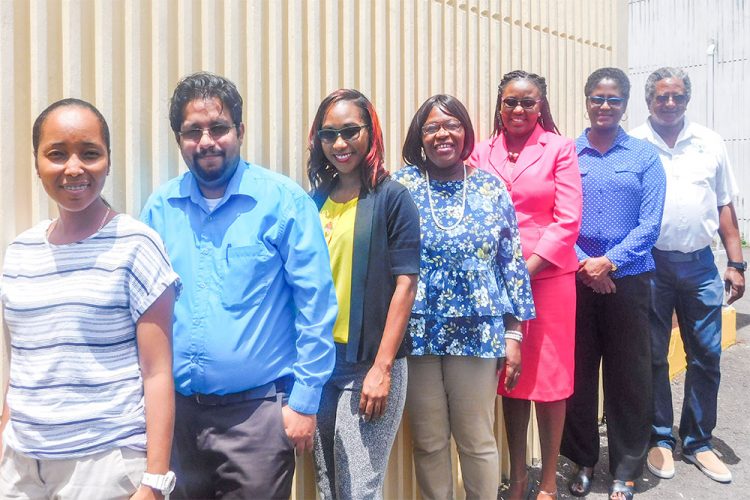 This country's national radio station is marrying a number of factors to bring about a transformation on the airwaves that is suitable for all audiences.
Come October 1, the National Broadcasting Corporation (NBC) will embark on changing the perception that they are the "old people station", through the rolling out of several new on-air programmes and other in-house changes.
Dionne John, the general manager, said that one of the factors driving the "new face of NBC" is the management team.
"First and foremost, about 80 per cent of the management team or probably more is comprised of women," she said. "The age range of the management team, although we have some senior persons, some persons who have been here for a while; outside of that, the team is a very young team and everybody brings to the table, a particular level of expertise in their own function, in terms of their function and capabilities to the organization."
The general manager revealed that the team, along with the board of directors, has been looking at how to embrace the new trends of radio, while holding on to some of the older aspects.
Already, the radio station has made changes to programming with changes in the times of news broadcasts. And John said that this is to accommodate the newer programmes that will hit airwaves, come October 1.
Colvin Harry, the programme manager said that programming is where the transformation of the national radio station starts.
"We have something for everyone. Music, discussions, information and just general programming for everyone," he said. "Persons still refer to it as the old people station, but we've come a long way from that terminology because we now have a modern music database. It allows for us to expand into music that you would not have heard before."
Harry alluded to the fact that talk radio has become a major part of the morning routine for radio listeners.
The programme manager revealed that NBC will become the only station on the airwaves to have a female hosting the morning talk show, which will go live from October 1 at 7:45 a.m.
He said while the station had a female host of the morning programme before, it hasn't happened for a very long time.
And this voice comes in the form of Abigail Haynes, who is the programme manager assistant.
"I am going to be hosting the good morning show which I have now dubbed 'Your Morning Cup'," she said. "I'm hoping that it's going to be something that the public will love. I intend to make it a programme that people will want to listen to. Clean content, entertainment, information and really a programme to get you up and going for the day, hence the name. I'm really looking forward to it."
Haynes, who also has responsibility for social media management, said that social media will also play a major role in the station's transformation.
She explained that she has had responsibility for social media since she returned from her studies in 2016 and has been ensuring that it has been up to date with information.
"From October 1st, we will be streaming our morning show, first of all. live. We will be looking into streaming the others overtime," Haynes said.
"So, for those persons who are already in their office or probably at home, you can also be a part of the good morning show and I think Vincentian public, we like to see things so along with not just hearing us on the radio, you can see what's happening in the studio and how things operate."
In this marriage of old and new, there are just some things that cannot change.'
Leslie DeBique, the senior editor said that one of the things that won't change is how obituaries are read on air.
"I don't think anywhere in the world, you have obituaries read in the way they are read on NBC radio," DeBique, who has given 24 years of service to the station, said. "That is just something that evolved over the years and it's like a part of us. You have an obituary, sometimes two and three pages long. I know in other countries, that doesn't happen, but in St Vincent and the Grenadines…when people come from away and they hear it, they say 'what is that?' It's just something that is unique to St Vincent."
The senior editor however, said that the transformation of the radio station will make it a more modern entity. And in order to achieve this, investments must be made in young people and updating technology.
Both Harriet Bushay, the accounts manager and Junior Byron Cox, the acting technical manager also share these sentiments.
Bushay said that since she started at NBC in 1988, she has worked alongside many people including Juanita Francois, Glen Jackson, Kendal Morgan, Pamela Barbour, Corletha Ollivierre and Raphael King.
She highlighted that younger people are now at the helm of management of the company. This includes Hans King, who is the chairman of the board of directors.
Similarly, Cox has been with NBC for 33 years and says that technology has and continues to evolve at the company.
Cox has served in several capacities with the technical team and has seen the radio move from AM to FM frequencies.
He told SEARCHLIGHT that his team ensures everything is up and running at their various sites across the country in order to maintain their nationwide reach.
"The only challenge that I think we have is the perception that we are outdated and it is not a case where we are outdated, but we are careful with the kind of information that we would put out, we are careful with the kind of music that we would play because we see ourselves as corporate citizens with a responsibility and from where we sit, we mold young minds, we educate people, we bring responsible news, responsible reporting and the standards for communication on a whole which govern how you communicate and what you do," said Jenilee Glasgow, the sales manager and newest addition to the management team.
But she said the station's new campaign will hopefully change the perception that it is an "old people station".
She added that it was not a move away from the current target audience, but ensuring that the needs of other audiences are serviced throughout St Vincent and the Grenadines and the Diaspora.