Posted on
Facts about our Natural and Man Made Resources Components of our Land and Land Resources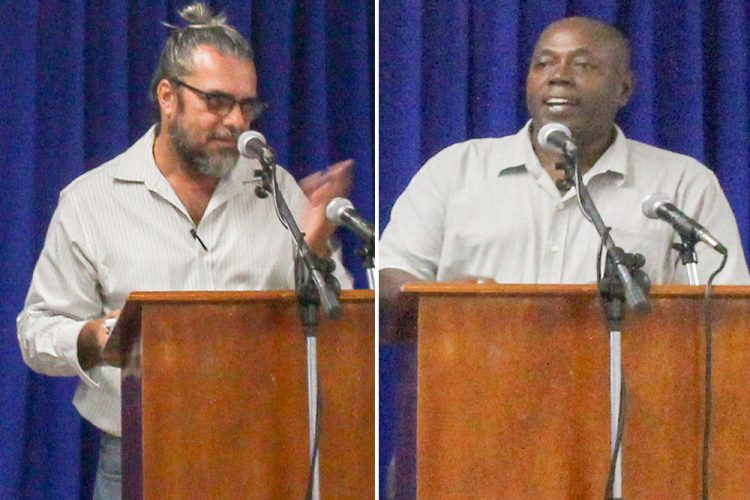 MADE RESOURCES COMPONENTS OF OUR LAND AND LAND RESOURCES.
DO YOU KNOW?
That King's Hill is the oldest forest reserve in St Vincent and the second oldest in the western hemisphere. It was established in 1791 to "attract the clouds and rain" and thus provide rain for the surrounding areas that were otherwise dry and windswept. Legal protection is provided by King's Hill Forest Act, 1765.
That St. Vincent has one of the oldest Botanical Gardens in the western hemisphere. Before the enactment of the King's Hill Forest Act 1765, 20 acres of land was cleared in St. Vincent for the cultivation of plants found on the island which were thought to be useful medically and commercially profitable. In reality this constitutes the creation of the first Botanical Gardens in the western Hemisphere. During the years following the St. Vincent Botanic Gardens grew in importance.
Watersheds are important natural assets. Some of the most important watersheds areas with respect to water supply are Colemarie, Richmond, Cumberland and Montreal. Together these four watersheds produce a significant amount of the country drinking water.
The country has many landmarks of archeological and architecture value.
Petroglyphs at the Buccament petroglyph care, Layou petroglyphs – the largest ones in the lesser Antilles, Petit Bordel petroglyphs in St. David Yambou Gorge in St. Georges 90m long tunnel at
Black Point Tunnel – Charlotte built around 1815 which provided access routes for sugar expert.
Fort Charlotte – St. Andrew built by the British to protect Kingstain from French and Caribs living on the island started in 1763 and completed in 1806.
NATIONAL CONSULTATION ON NATURAL RESOURCES MANAGEMENT WITH SPECIFIC REFERENCE TO LAND AND LAND RESOURCES POLICIES.
One of the main activities undertaken in support of the preparation of the National Land Policy was the convening of a National Consultation on Natural Resources Management with specific reference to Land and Land Resources Policies. The National Consultation was held on 29-30 November 2017 and was attended by a wide cross-section of stakeholders from the public and private sectors and civil society.
The National Consultation was held under the auspices of the OECS Commission. The opening Session of the National Consultation was addressed by Mr. Anthony Bowman, Chief Technical Officer, Ministry of Housing, Land and Surveys, Physical Planning and Informal Human Settlement, who spoke on the behalf of the Government of St. Vincent and the Grenadines and Mr. Cornelius Isaac, Technical Specialist, OECS Commission, spoke on the behalf of the OECS.
Aims and Objectives of the National Consultation
The National Consultation discussed and agreed on the various elements which should form the basis of the Natural Land Policy for SVG. The first question answered was why need for a National Land Policy is:
The need for a National Land Policy?
Any issue which was addressed by the National Consultation was: what are the benefits to be derived from having a National Land Policy?
Main Elements of the National Land Policy
Key Policy Directives of the National Land Policy
Policy Directive 1: Rationalise and Strengthen Legal and Institutional Framework
Policy Directive 2: Strengthen Land Administration Framework (Juridical and Regulatory)
Policy Directive 3: Finalise the National Physical Development Plan
Policy Directive 4: Strengthen the Framework for the Management of Soils
Policy Directive 5: Strengthen the Framework for the Use and Management of Agricultural Lands
Policy Directive 6: Enhance Environmental Sustainability and Build Resilience to the Adverse Impacts of Climate Change and Hazard Management
Policy Directive 7: Build Resilient Human Settlements and infrastructure
Policy Action 8: Establishment of a National Natural Resources and Land Information System
Policy Directive 9: Codify Multilateral Environmental Agreements in National Law
Policy Directive 10: Strengthen supporting Human Resources Development Framework
Policy Directive 11: Develop a Supportive Public Environmental Education and Awareness Programme
Policy Directive 12: Establish an Effective Monitoring, Reporting and Evaluation Framework