Posted on
Courts donates to Special Needs School in Bequia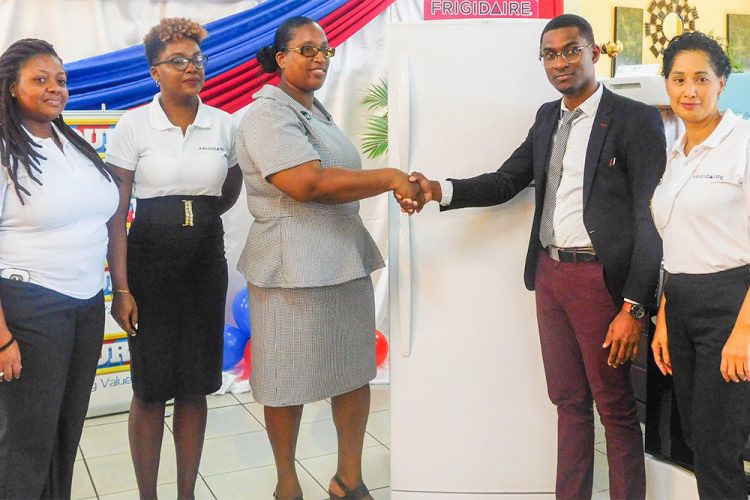 The Bequia Sunshine Special Needs School received a brand new Frigidaire refrigerator last Wednesday, as part of Courts St Vincent Ltd's most recent promotion.
Courts St Vincent Ltd began its Supplier Appliance event on September 17, in which some of their major partners interact with customers and make donations to non-profit organizations.
"We are doing this because of our customers," said commercial manager, Lisa Veira. "This is our way of saying thank you because we are in business because you continue to support us."
Senior manager, Michele Samuel thanked Frigidaire for partnering with the company for its Supplier Appliance event.
She said she was happy to partner in order to provide the donation to the school in Bequia, where a branch of Courts is also located.
"We are always willing and looking for ways to give back to the community in Bequia. We hope that it will go a long way to making your lives more comfortable and the lives of the students a lot more comfortable," Samuel said.
Frigidaire representative, Victor Morales also thanked Courts St Vincent Ltd for partnering with the company, which is celebrating 100 years of innovation this year.
"It means a lot to give back to the people we serve. We sell appliances and we are serving you through our appliances," he said. "It is our pleasure to serve St Vincent and the OECS and the Caribbean and the world with our appliances."
Michelle Stowe, headteacher of the Sunshine School for children with special needs said that the school, which was started in 1982, relies solely on donations so that it can function.
She said the school is the only one on Bequia for children with special needs and so they do not turn away any of the students who come.
The Supplier Appliance Event began on September 17 with representatives from Whirlpool donating a refrigerator to the St Benedict's Nursery in Georgetown.
Courts St Vincent Limited continued its Supplier Appliance Event this week when Mabe made a donation to the World Pediatric Project.