Posted on
Carnival cruise line delegation visits S VG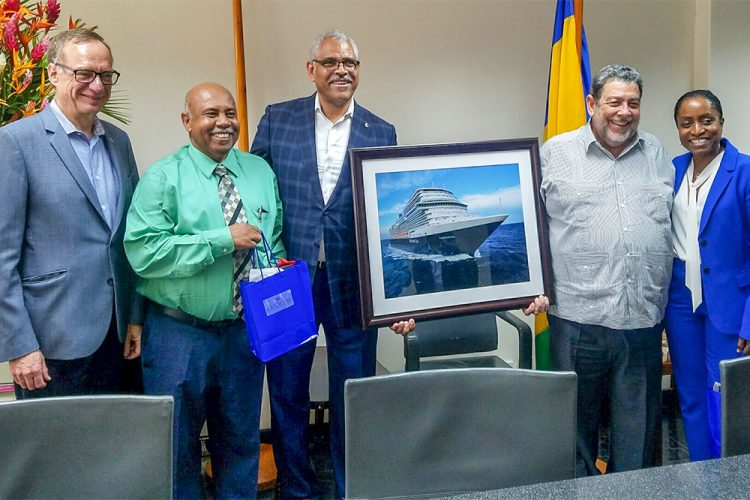 A delegation of cruise executives led by President and CEO of Carnival Corporation & PLC, Arnold Donald, made an official visit to St Vincent and the Grenadines (SVG) on September 18.
The delegation included Chief of Staff to Mr Donald, Karl Sestak; Senior Vice President, Global Ports and Destination Development, Giora Israel; Vice President, Port and Destination Development-Operations, David Candib and Vice President, Global Ports and Caribbean Government Relations, Marie McKenzie along with her assistant Stefano Borzone.
At a meeting hosted by Prime Minister Dr Ralph Gonsalves at Cabinet Room, the following matters were discussed with the Carnival Corporation & PLC delegation: (i) Making more Carnival & PLC cruise calls to the destination; (ii) Employing more Vincentians on Carnival & PLC Ships; the Government of St. Vincent and the Grenadines is committed to increasing training in related areas at the Maritime and Hospitality Institute; (iii) Opening more business opportunities through docking facilities in St Vincent and the Grenadines, including at Chatham Bay in Union Island; (iv) Partnering with the Government of St Vincent and the Grenadines in Port Development; (v) Further exploring the possibility of the Argyle International Airport as a transit port.
Head of delegation Arnold Donald presented Prime Minister Gonsalves with a framed picture of their newest vessel the MS Koningsdam of the Holland America Line which will be providing service to the region for the 2019/20 cruise season.
According Cecil McKie, Minister of Tourism, Sports and Culture "the meeting was cordial and productive and there is a strong possibility of some of the matters discussed becoming a reality for the 2019/2020 cruise tourism season''.
Last Tuesday's meeting was also attended by CEO of the SVG Tourism Authority, Glen Beache; Permanent Secretary in the Ministry of National Security, Godfred Pompey; CEO of the SVG Port Authority, Bishen John; Managing Director of Coreas Shipping and Tours, Joel Providence, as well as the Deputy Commissioner of Police and the Coast Guard Commandant.
The 2018/2019 Cruise Tourism season officially commences on November 1, 2018, with an estimated 272 calls including calls from the Azura, Aida and Britannia of the Carnival Corporation & PLC line.