Posted on
Brewery launches new promotion dubbed 'On the Endz'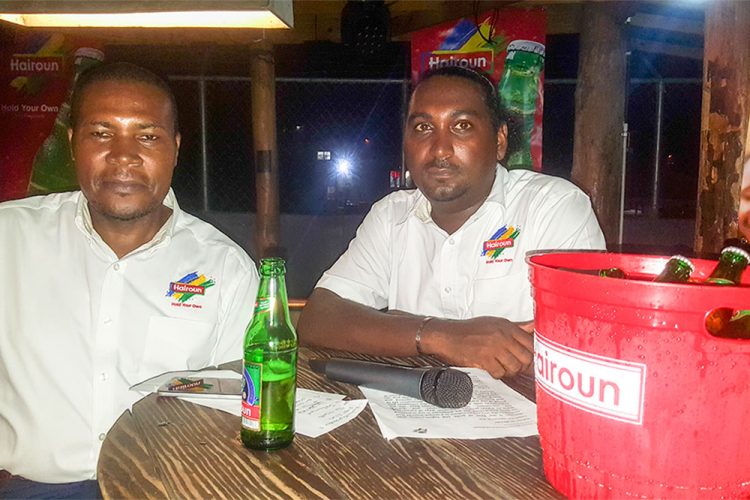 The St Vincent Brewery Limited prides itself on being a part of Vincentian culture and as a result, their latest promotion, "On the Endz" seeks to support Vincentians in something they like to do, that is, hang out.
On Tuesday at Tree Bar in Arnos Vale, the Brewery launched "On the Endz", with the Brewery's Marketing Manager Lamont Medica saying that many great things are in store for consumers.
"We will be going around the country and where we meet persons enjoying beers we will be sharing gifts," said Medica.
How "On the Endz" works is that the Hairoun team will visit shops or anywhere people are mingling and give away items including hats, openers, mugs, free beers and six packs. There will also be Hairoun beer specials in which three beers will be sold for EC$10, while a happy hour promo may see persons enjoying four beers for EC$10.
These visits will be done throughout the month of October and interested persons are asked to make contact with Hairoun on social media or listen to the various radio stations to find out the venues.
Medica said the Brewery continues to be a trend setter in the market and anything that is uniquely Vincentian, they try to be a part of it.
"Whether it is soccer, cricket or a simple barbecue we are part of that and with 'On the Endz', we see the 'endz' as really any spot, bar, street, house or a bench in an area where people lime, a good company of friends with a cold beer and we are going to a have a lot of different events and activations. You will be shocked and amazed at the promotions," said Medica.
The promotion will come to an end on October 30 and to promote it, two local music advertisement videos featuring local acts Villroy "Tuffa" Jack and Roshik "Mason" "Mason will be released. The videos were produced by Kubiyashi Productions and Frost Films.
"The videos show the great talent we have here," Medica added.
During the launch, marketing coordinator at the St Vincent Brewery Limited Kelvin Franklyn said, Hairoun is the beer of pride and togetherness that embodies the Vincentian culture in a unique manner that no other brand can.
"We are deliberate in our marketing quest to always produce innovative ways of connecting our consumers, creating memories and sharing experiences over a beastly cold Hairoun beer," Franklyn noted while adding that they are inviting persons, "On the Endz", to enjoy the varied liming and chill spots across the country.