Posted on
Girl Guide from the No. 1 Kingstown Company wins inaugural reading competition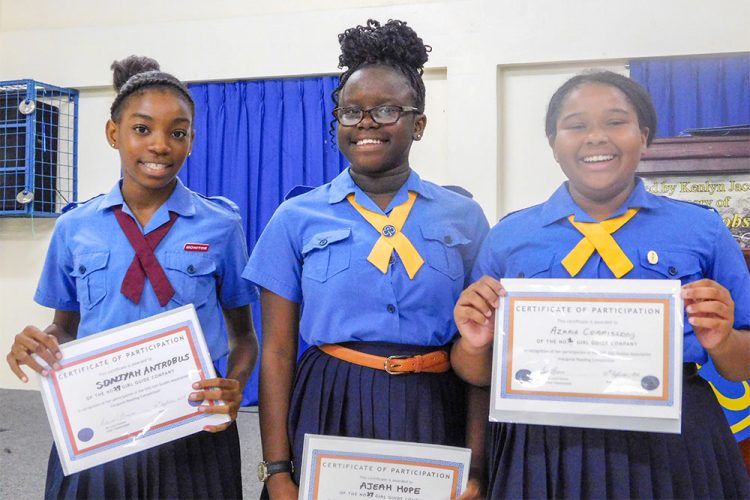 Azaria Commissiong will go down in history as the first person to ever win a St Vincent and the Grenadines Girl Guide Association Reading Competition.
Commissiong, a girl guide with the No 1 Kingstown Company, along with seven other participants, took part in the Inaugural Girl Guide Reading Competition on Friday. The competition was held in commemoration of International Peace Day, International Literacy Day and Orange Day.
"We trust that this thrust of our Association will be good in the sense that it will highlight for our girls and young women, issues associated with literacy, peace and non-violence," said Laura Browne, chief commissioner of the Association.
Participants engaged in two rounds of competition, where they read a passage, which was followed by a question based on the passage they had just read.
Carol Ross, one of the three judges of the competition, commended the girls for a job well done.
In giving pointers based on participants' performance, Ross said that people should not be afraid of self-correction.
"It's alright to go back and correct if you find that you've made an error, you correct it, that's not a weakness, it's a strength because it says that you're comprehending and you understand what is happening," the judge said.
She also encouraged participants to be careful with intonation and to continue reading and listening to news broadcasts in order to learn how to properly pronounce words.
"I know the informational text was challenging. But it says that you must read more of that kind of material. When you listen to news, you would hear people pronounce words and that will help you a whole lot," Ross said.
Second place was awarded to Ajeah Hope of the No 27 Kingstown Company and third place was awarded to Soniyah Antrobus of the No.29 Bishops College Kingstown Company.
Other participants were Anaelia Williams of the No 3 Kingstown Company, Kendeisha Cupid of the No 8 St Joseph's Convent Kingstown Company, A-sha Nicholls of the No 28 St Joseph's Convent Kingstown Company and Jada Adams of the No 16 Thomas Saunders Secondary School Company.