Posted on
Sir James' attitude to me changed when I reduced his salary – Eustace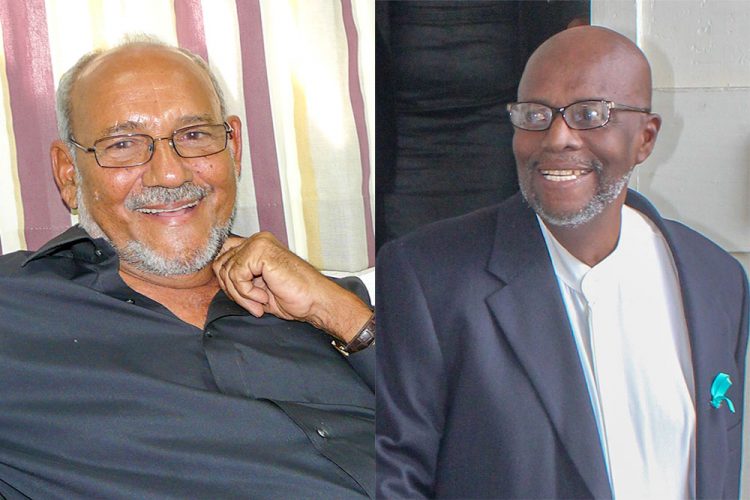 Arnhim Eustace, former opposition leader and president of the New Democratic Party (NDP) says he is not surprised by "venomous" comments made about him by his predecessor, Sir James Mitchell.
Eustace, speaking on the New Times radio programme on Tuesday, was referring to comments Mitchell made on Boom FM on September 11 when he called Eustace his "biggest error".
Mitchell also apologized to the people of St Vincent and the Grenadines (SVG) for the error.
"I am unsurprised quite frankly that you would be venomous in your comments about me. Your public praise of me as a minister of finance – and that was often – an economist, and leader and the fiscal advisor and as director of finance, you said was responsible for some of the most progressive gains while you were prime minister," Eustace said, as he read from a letter that he wrote in response to Mitchell.
"As prime minister myself, your attitude changed drastically from the moment I reduced your salary when I became prime minister. I was of the view that the country could not afford, neither was it fair to pay two prime ministers' salaries. I will never regret that decision."
Mitchell handed over leadership of the NDP and the office of Prime Minister to Eustace in October 2000, five months before general elections in March 2001 which were won by the Ralph Gonsalves-led Unity Labour Party (ULP).
However, Eustace did express surprise in the former prime minister's decision to apologize to the nation.
And the former opposition leader and prime minister hoped that the apology extended to "your acknowledgement that you were forced to hand over leadership by your depleted popularity, public disaffection with you and the consequent rise of the worst prime minister and administration that this country has ever seen; Ralph Gonsalves and ULP".
Eustace said he inherited the NDP and prime minister position only months before an election was slated to be called.
He also said the election loss that followed when the NDP only won three seats reflected Mitchell's leadership.
Eustace further said that under his leadership, the party was able to increase their seats from three to seven.
"You spent those years, Sir James, undermining the party you co-founded, publicly insulting and tearing down many of NDP's candidates and me and cozying up and praising Gonsalves. But that is apparently in the past. You have returned to the NDP. Should I say welcome back? Rest assured Sir James, my period as immediate past president of the NDP will be spent very differently from yours," he said.
The former opposition leader, in highlighting these differences, said that he resigned early enough to give his successor, Dr Godwin Friday, years rather than months to lead and prepare for elections.
He also said that he would never present his opinion on any NDP policy as that of the party. And he said that he would always make himself available to Friday, should he ever need him and not take offence if he (Friday) did not.
"Going forward, Sir James, I ask that you dwell on the ways you can interrogate without disparaging. I fear that despite your overall good record of governance, your poor service contribution will be remembered for its toxicity and self-praise," Eustace said.