Posted on
Garden of Hope blooming in Taiwan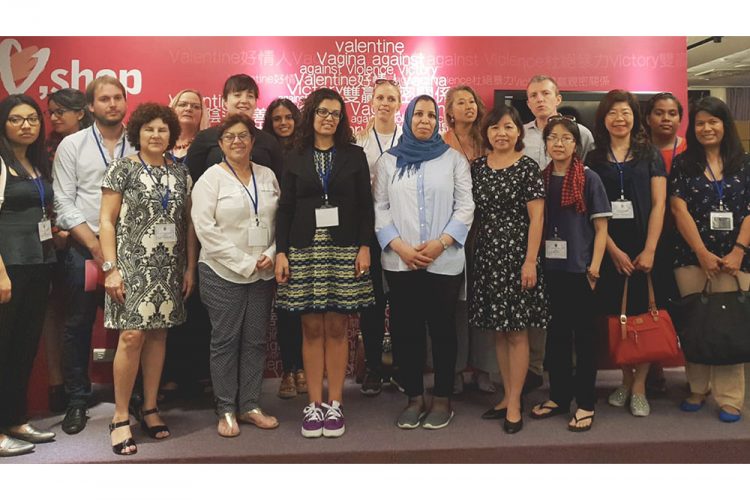 by Katherine Renton in Taipei, Taiwan
With the 'Garden of Hope' blooming in the Republic of China (Taiwan), it provides an advanced model for those who wish to join the fight against the thorns of domestic violence.
The 'Garden of Hope,' was described by the Supervisor of its International Department, Anthony Carlisle as being "possibly the largest service providing" non-governmental organization (NGO) for women in Taiwan.
A delegation of 19 journalists, of which SEARCHLIGHT was a part, visited this NGO on September 4, while on an informational trip regarding gender equality in Taiwan. During a tour of the Garden of Hope's headquarters in Taipei, these journalists were informed that the organization was established in 1988, originally to help victims of child prostitution, which was a bigger problem 30 years ago.
Today, one of the organization's main goals is to provide aid to survivors of domestic violence, with 500 staff, 13 branches,over 60 service points, and 20 shelters around Taiwan.
Carlisle informed that the number of cases being reported to the domestic abuse hotline remains in the vicinity of 100,000, with around 70 per cent of those making reports being women, 20 per cent children and 10 per cent men. Taiwan has an estimated population of 23.5 million persons.
The Garden of Hope, which is half funded by the Government, and half funded by private sources, has an annual budget of US$13 million.
"Usually the women who really need help, they'll come to us through the domestic violence protection network, and that's either through the police, or through the school, or in serious cases the hospital," Carlisle explained.
Government workers at domestic violence centres assess these cases and, "if the Government social worker there decides that the women needs, or the child needs to be put in to protective care, or to put in to a shelter, then they will contact us or another shelter providing organization."
More than providing shelter services, the Garden of Hope has implemented a "Go the second mile" program.
"We found in the past around 50 per cent of the women who came to our shelters would then come back within six months, because they are forced by economic circumstances, or social pressures, or family pressures, to go back to their abuser," Carlisle explained.
To combat this, the program tries to provide relief, with a large focus on providing employment services, "including training, helping connect them with jobs, taking the women to interviews."
The Garden of Hope also has factories, a glass bead and biscuit factory were mentioned, and other workplaces of their own.
"From our employment program, 90 per cent of the women are able to either completely reduce or reduce significantly the violence in their lives," Carlisle disclosed.
Added to this, the organization also tries to provide a link to cheaper housing, since it is said to be expensive in Taiwan.
There is also a peer support network, wherein former shelter residents keep in touch with current shelter residents at gatherings hosted on big events like the Chinese New Year, and the Moon festival.
There are a few challenges that the Garden of Hope has, such as cultural barriers to women coming forward.
"… in Chinese they say shameful things in the family shouldn't be exposed, keep it behind doors," Carlisle said.
However, he opined that the issue was getting better, and that the whole structure of the traditional culture is changing.
The organization is also working on the rights of the victims in the legal process. "Once a crime is reported, or not reported, the victim has very little say in how the case goes, whether it is prosecuted by the prosecutor," Carlisle explained.
However, he says their biggest challenge is for single mothers to be able to hold down a job, and put their children or child in childcare.
Walking through the headquarters of the Garden of Hope, on display are items the shelter residents made in the factories and examples of educational material used for child witnesses of domestic violence, "It's not just the mothers, but it's also the children who suffer."