Posted on
Young entrepreneur's dream comes to fruition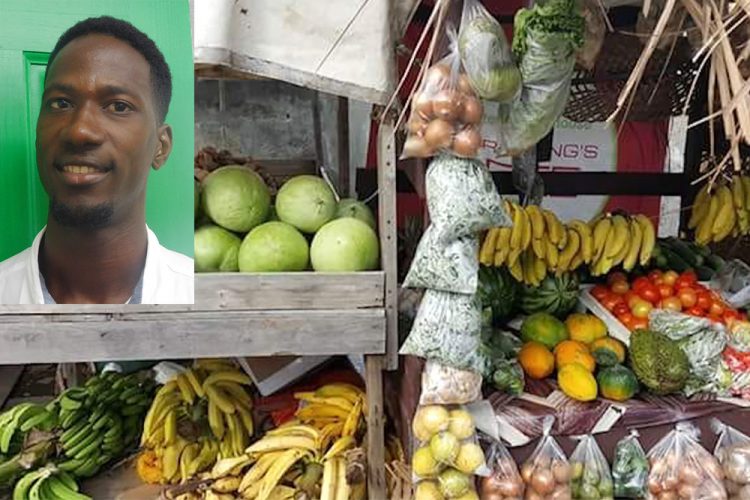 Romarl John has had a passion for business ever since he was a little boy.
It's no surprise then that when he got older, he decided that he wanted to be his own boss.
The 24-year-old, who runs a fruit and vegetable stall outside of Massy Stores in Arnos Vale, celebrated one year as a registered business.
"I cater for fresh fruits and vegetables every day of the week and fruit baskets on request so that is another way of promoting my business as well to the public," John, whose business is formally known as RJ Enterprises said.
John promises fresh produce to every customer, whether tomatoes, cucumbers, cabbage, string bean and eggplants or grapefruit, watermelon, orange, grapes, sugar apples, papaya and plum rose.
The entrepreneur said as a boy he would sell fruits and other snacks so that he could get money to go to school. He added that he sold cold beverages and snacks to tourists on the beach during the tourist season.
All these experiences helped to solidify his dreams of becoming a business owner.
He also told SEARCHLIGHT that one of his biggest mentors is Leila Greaves, who helped to support him with school supplies when he was in school.
"Instead of wasting time, she always [told] me [to] keep myself occupied. Find my hand doing something and stuff like that. She also told me that even if its $5, still work for it. Little is much and make use of every opportunity you have as well," he said.
The small business owner said that his first year in business was challenging and taught him a lot about what it means to operate a business.
He also learnt a lot about himself.
"People come and steal from me as well and that was a little bit of discouragement and it kind of cause me to lose a little on my profit and stuff like that but I didn't make that stop me," he explained.
"It gave me a little setback in between for where I want to reach a little bit [further] in my business but it make me to be wiser, vigilant and think smart and keep secure and be aware and mindful."
However, he said that he was able to give back to his community while building his business.
The Arnos Vale resident revealed that he provided his church with fruit baskets for sick and shut in members and that he was also able to give to elderly persons in his neighbourhood as well.
Despite his setbacks, John believes that small business owners should support each other.
It is for that reason that he is adamant when it comes to supporting farmers from all across the country.
He told SEARCHLIGHT that he travels as far as Owia to pick up the produce that he sells.
When that's not possible, he likes to visit the Kingstown Vegetable Market to support the vendors there.
And the young entrepreneur wants youths to respect small business owners, vendors and see the value in owning one's own business.
He advises new entrepreneurs to be active members of any financial institution and make regular payments to the National Insurance Services so that they can reap the necessary benefits.
John said he was extremely grateful to all the supporters who made his first year as an official business a success.
"I just want to say [thank you very much]. I'm grateful and I'm looking forward to more customers and for my current customers to share the quality they get from me," he said. "Right now, I'm just doing practical work. Later down, I'm looking to get into theory which is studying the business and stuff like that."
Anyone wishing to purchase fruits and vegetables or fruit baskets for special occasions may contact John via e-mail; romarljohn@gmail.com or telephone; 455-3574/ 5292194.