Posted on
Starlift's graduates urged to use attributes gained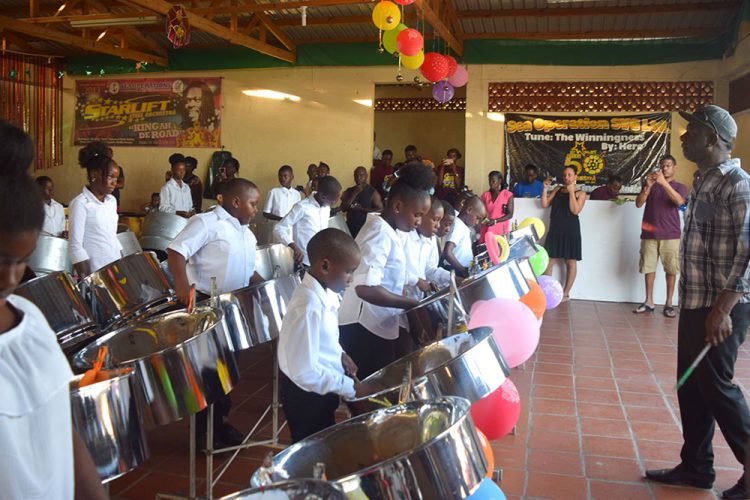 Graduates of the 2018 Starlift Steel Orchestra's annual training programme were last Saturday told to maximise the attributes gained during the weeks of training.
This recommendation came from Geran Maule, who addressed the graduates in the capacity of feature speaker at the ceremony held at the Starlift pan yard at Montrose.
Maule, who himself had gone through the programme previously, listed the attribute of punctuality as one of the important tools of the trade of life.
"Be on time…You were asked to be here at 4' o clock and 5 o clock, respectively and you were here… So in anything you do, in school, work place or any function that you have to attend, please be on time…," Maule expressed.
Maule also advised that the graduates embrace the same fervour employed during their practice sessions, as another life skill, stating: "Try taking the same excitement with you into school or where ever you might go".
He reasoned: "Most of your time is the pan yard was spent drilling or practising songs …This is the same work ethics you must take with you to school or any form of employment …Practice your Math relentlessly and go over your notes until you get it right… Do your home work…. You all left the pan yard rehearsing the song in your head and playing some air pan…. I know this because I did it too".
Maule told the graduates to use their time wisely, hence, "No day should pass when you do not accomplish anything".
"Always remember the valuable lessons you have learnt here and use them wherever you find yourself so that we can build a better St Vincent (and the Grenadines)," Maule implored.
He above all asked the graduates to place God first in their lives.
This year's Starlift training programme, which was under the guidance of Kingsley 'Hero' Roberts, resulted in another 60 persons being trained in the art of playing the steel pan.
But it will not stay there, as the new players will resume their advanced training as the programme continues.
Apart from Maule, other speakers at last Saturday's graduation ceremony included Oneka Morgan – president of the Youlou Pan Movement; St Clair Leacock – parliamentary representative for Central Kingstown, former Minister of Culture John Horne and current Minister of Tourism, Sports and Culture Cecil Mc Kie.
The ceremony was chaired by Starlift's captain Roddy Dowers who also gave brief remarks on behalf of the organisation.
The graduates did not only receive certificates for completing the training, but were well received as they performed the songs learnt during the weeks of the training programme.
The afternoon's entertainment also included renditions from Starlift's junior band, the 2018 Junior Panorama champions.